German Government Bonds in 'Bubble Territory,' Allianz Says
By
Insurer aims to slightly increase its corporate bond portfolio

Renewable energy, infrastructure currently attractive: Gruber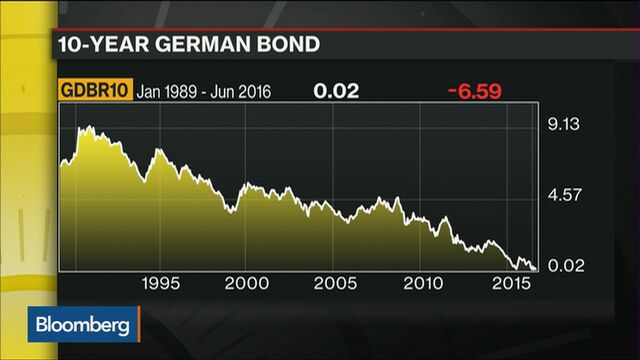 German government bonds are in "bubble territory" and Allianz SE plans to raise its corporate debt holdings, Chief Investment Officer Andreas Gruber said in an interview.
"Allianz never really was a strong investor in German government bonds," said Gruber, who oversees 638 billion euros ($720 billion) of investments. "There always were plenty of better alternatives in the sub-sovereign, corporate and non-euro-denominated fixed income markets."

The German 10-year bond yield dropped below 0.01 percent on June 10, the lowest on record. A move below zero would see Germany join Japan and Switzerland in having negative yields for bonds with maturities of a decade or longer, adding about $2.9 trillion of such securities in the euro area.
Yields on bunds have tumbled since the European Central Bank added corporate bonds to its expanded 1.7 trillion-euro stimulus program on June 8 in a bid to boost the euro-area economy. Allianz plans to continue increasing its allocation to corporate bonds despite the central bank's purchases of the debt securities that started last week, Gruber said.
"The volume of what the ECB is buying relative to the overall market is much lower than in government bonds, so it does not really turn the needle on future returns or liquidity," Gruber said in an interview in Munich. "We will continue to increase our corporate bond exposure slightly. We need to broaden other areas, as we don't buy government or other bonds with negative yields."

"Over the long-term, clearly this is a bubble in the government bond market in Germany because if you look at the economic development and inflation expectations, higher yields should be expected," Gruber said in a Bloomberg TV interview. "The buying program of the ECB has an impact on markets."
About 89 percent of Allianz's investments were in fixed-income assets such as government, covered and corporate bonds at the end of last year. About three-quarters of the insurer's investments are managed by its asset-management subsidiaries Pacific Investment Management Co. and Allianz Global Investors.
QuickTake Europe's QE Quandary
Bill Gross, the manager of the $1.4 billion Janus Global Unconstrained Bond Fund, said in a tweet last week that central banks have created "a supernova that will explode one day." In April 2015, Gross, a former chief investment officer at Pimco, said bunds were the "short of a lifetime."
Economists are less convinced the bund yield will continue its decline. While they have reduced their year-end yield estimates since January, they don't foresee that level as sustainable. The median forecast of 19 economists in a Bloomberg survey is for the yield to climb to 0.24 percent by June 30, while just six predict it will be at 0.1 percent or less.
Debt issued by non-financial companies represented 29 percent of Allianz's 568 billion-euro fixed income portfolio at the end of last year, up from 26 percent a year ago. Europe's largest insurer expects corporate-bond spreads to remain more or less stable, Gruber said.
Investment Returns
The company is heavily dependent on returns from its investment portfolio, which made up 65 percent of operating profit last year, compared with 58 percent in 2014. Increased market volatility may help that performance, he said.
"Investors need to accept more risks in order to meet their return expectations," Gruber said. Market volatility "will happen more often at a higher amplitude, but on a positive side it also presents opportunities."
To help cushion the impact from record-low interest rates, the insurer plans to invest more in alternative assets. The category, in which Allianz includes real estate, infrastructure and renewable energy investments among others, is set to grow by 10 billion euros to 20 billion euros this year from 92 billion euros at the end of 2015, Gruber said.

Gruber is cautious on German real estate however. Home values in some neighborhoods in cities including Berlin and Frankfurt, have more than doubled in the past five years, according to property market research firm Bulwiengesa. The Federal Finance Ministry is drafting new laws that would allow financial watchdog Bafin to cap lending ratios if a housing bubble becomes evident.
The insurer has increased its investments in renewable-energy assets such as wind parks and solar parks to 3 billion euros over the past several years and would "happily double that" in the longer term, Gruber said. It now owns more than 60 wind farms and seven solar parks, generating enough renewable energy to supply more than one million households.
"We are far away from a bubble in renewable energy and infrastructure," Gruber said. "Therefore, these two are the most attractive asset classes for us where we feel safe to even add some risk to the portfolio."