After More Than 10 Tries, Pakistan Set to Complete IMF Program
by
First time Pakistan would be completing an IMF program

"Pakistan does not need the IMF anymore," Dar said in April
Pakistan is two months away from finally completing an International Monetary Fund program its government signed up to after more than 10 previous failures.
Prime Minister Nawaz Sharif won the $6.6 billion loan to avert a balance-of-payments crisis soon after taking power in 2013, and has since seen the pace of economic growth increase while deficits shrink. In doing so, he's resisted push-back as higher taxes sparked protests from opposition leaders, businessmen and ordinary citizens.
All these indicators -- as well as rising investment from China -- prompted Finance Minister Ishaq Dar to say in April that "Pakistan does not need the IMF anymore." He reiterated this month that the government wouldn't seek another IMF program.
"It's the government's right decision to end the IMF program and go for growth but it shouldn't mean that fiscal discipline isn't there," said Mohammed Sohail, chief executive officer at Karachi-based brokerage Topline Securities Ltd. "They should follow the good things IMF taught them."
Here's what the IMF program has done for South Asia's second-largest economy:
Gross Domestic Product
Sharif achieved the IMF's medium-term goal of increasing GDP growth to near 5 percent from an average of about 3 percent in the five years through 2013. He is aiming for 5.7 percent growth in the next fiscal year as China starts investing $45 billion in an economic corridor. If he's successful, it would be the first time in at least a decade that any Pakistani government has hit a growth target.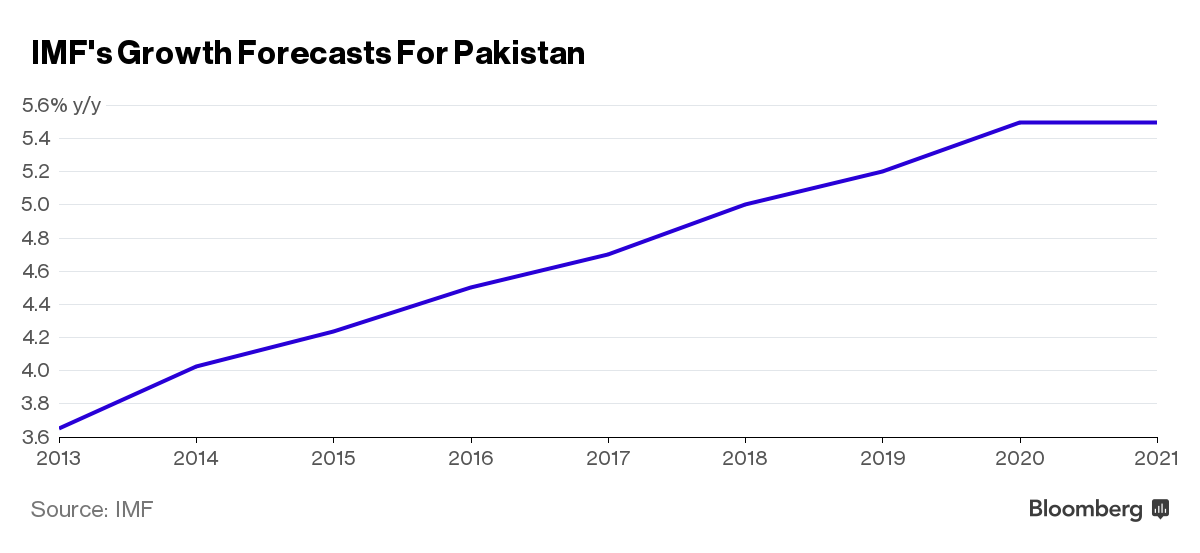 Budget Deficit
The IMF targeted to shrink the shortfall to 3.5 percent of GDP by 2016 from an estimated 8 percent in 2013, with provincial governments contributing more revenue. However the actual deficit came in at 4.3 percent, as years of military rule keeps defense spending disproportionately large. A tax amnesty offer also flopped and damped collections.
Tax Collections

Sharif's government is struggling to meet its goal of raising tax revenues to 3.1 trillion rupees ($30 billion) by June 30, up nearly two-thirds from 2013. As of April, he had collected just 2.3 trillion rupees. Although about 350,000 Pakistanis registered as tax-filers over past three years, the total is still only 1.1 million, or less than 1 percent of the population.

FX Reserves
Pakistan's foreign-currency reserves have more than doubled since June 2013 to $16.8 billion at the end of May, enough to cover 4 months of imports. However, that's just the floor of the IMF's target, and some economists have questioned the quality of the reserves because they largely comprise grants and loans.
Privatization
Sharif's privatization program got off to a good start with sales of stakes in lenders including Habib Bank Ltd. and United Bank Ltd. Yet opposition increased when the process started for Pakistan International Airlines, Pakistan Steel Mills Ltd. and power utilities. He'll try again for progress in the year starting July 1 while aiming to limit losses in state-run companies in the meantime.
Central Bank Independence
One big change emerging from the IMF program is greater autonomy for the State Bank of Pakistan. The monetary authority introduced an interest-rate corridor to better manage liquidity, and policy is now set by a 10-member panel that limits the government's role.
Even so, some analysts saw an unexpected rate cut last month as a populist move days before the government announced its budget.
Inflation
The interest-rate reduction came as a surprise in part because consumer-price gains accelerated to an average of 3.7 percent in 2016 from 2.5 percent the previous year. Even so, that's well within the IMF's aim of bringing down inflation to between 6 percent or 7 percent from 8.3 percent in 2013.
The last review of the IMF's current program is scheduled for August. Former military ruler Pervez Musharraf decided not to seek the final disbursement of a loan in 2006.
Before it's here, it's on the Bloomberg Terminal.
LEARN MORE