politics
U.S. ELECTION WRAP: Clinton, Trump Appeal to Splintered Bases
By and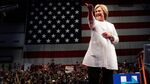 With the general election campaign now fully launched, Hillary Clinton and Donald Trump spent today playing straight to their parties' base supporters who, in both cases, have yet to fully unite behind their standard-bearers.
Trump, at the Faith & Freedom Coalition's "Road to Majority" conference in Washington, issued a full-throated defense of gun rights and said Clinton will push for federal funding for "abortion on demand"

Also said she would allow "hundreds of thousands of refugees," into the country; plans to raise taxes "tremendously"

Clinton started her morning, also in Washington, meeting with Sen. Elizabeth Warren, one of the highest-profile members of the Democratic progressive wing

The pair discussed advancing a progressive agenda and how to work together to stop Trump, according to a campaign official

Clinton later spoke at a Planned Parenthood Action Fund event and assured the group, which Republicans in Congress and state houses have sought to defund, that "I will always have your back"

"If right-wing politicians actually cared about protecting women's health, they'd join me in calling for more federal funding for Planned Parenthood"
Told group Trump wants to return to a time when abortion was illegal; says he "doesn't hold women in high regard because if he did, he would trust women to make the right decisions" about their health care

ON THE TRAIL
Trump begins campaign swing through key states, starting in Richmond, Va., tonight
Saturday: Rallies in Tampa, Fla., Pittsburgh, Pa.
Monday: Rallies in Manchester and Portsmouth, N.H.
NOTE: All four of these battleground states went for Barack Obama in 2008/2012
Washington Post deep-dives Gary Johnson's libertarianism, noting that the ex-GOP governor's pragmatism isn't always in line with his party's base 
Key line from reporter David Weigel: "Johnson's interpretation of libertarianism, and his sometimes surprising pragmatism on issues and alliances, raise a key question in an election year with two of the most unpopular major-party nominees in memory. Who would be hurt more by Johnson's candidacy: Democrat Hillary Clinton, or Republican Donald Trump?"
FiveThirtyEight also profiles Johnson; key quote from the candidate: "I think 30 million people here are up for grabs that are probably Libertarian; it's that they just don't know it" 

POLLS
Clinton leads Trump 42%-39% in latest Fox News poll; reversal from last month when Trump led by three points
Including Johnson, she still leads by three: Clinton 39%, Trump 36%, Johnson 12%
NOTE: Survey of 1,004 registered voters conducted June 5-8 by Anderson Robbins Research and Shaw & Co. Research; error margin +/- 3ppts

ADS
Priorities USA Action, a group backing Clinton, commits a $9 million ad buy in N.C. from June 15 to November election day, spokesman Justin Barasky e-mails
Says group's ad reservations total $145m; $105m on TV, $35m digital, $5.3m radio
Target states, along with N.C.: Colo., Fla., Iowa, Nev., N.H., Ohio, Va.

ENDORSEMENTS
Maryland GOP Gov. Larry Hogan declines to say if he'll vote for Trump, tells reporters he doesn't want to talk about his party's presumed nominee anymore: Washington Post
The biggest name missing from Clinton's endorsement list? Bill Clinton's former vice president, Al Gore
Gore had held out during Democratic nomination process, saying he'd endorse after primaries ended; Politico reports he was in China this week, hasn't had chance to meet with her yet since she secured nomination
Ben & Jerry's Ben and Jerry—both big fans of fellow Vermonter Bernie Sanders—split on whether to back Clinton, pair say in Sidewire chat
Jerry Greenfield says he would support her if she's the Democratic nominee, Ben Cohen says Clinton's "poster child for money in politics" and it'd be pretty hard for him to back her

VEEPSTAKES
The Democratic ticket needs to be able to "lampoon" Trump, and who better to do that than Saturday Night Live alum-turned-politician Al Franken? Rep. Keith Ellison of Minnesota tells Bloomberg's Billy House why he sees the state's junior senator as an ideal Clinton running mate
"First of all, Al Franken is very smart. He has excellent progressive credentials"
"And he is the funniest person in Congress"
"Now, why does that matter? I think it is important to lampoon Donald Trump. Make him what he is—ridiculous. Who is better to do that, that somebody who's an expert funnyman?"
Of other options, the co-chair of the Congressional Progressive Caucus says:
Virginia Sen. Tim Kaine is a "wonderful public servant," but he's not one to electrify the base and thus spur turnout
Another progressive option: Rep. Xavier Becerra of Calif., who Ellison declares "awesome" 

ETC.
Trump has been involved in more than 3,500 lawsuits over the last 30 years, and many of them were pressed by "ordinary Americans" who alleged the businessman or his companies refused to pay them, USA Today reports
Republican mayor and deputy mayor of Hackensack, N.J., quit GOP citing Trump, AP reports
Guardian reporter Ben Jacobs, in lengthy column reflecting on covering Trump from political novelty to nomination, refers to "a funhouse mirror of a campaign, in which nothing quite seems real"

"It's not that up is down and down is up. That would signify that things may yet return to normal. Instead, basic words and concepts no longer bear any relation to the truth as we knew it. In Trump world, meaning has become so refracted and strange that up is purple and down is pineapple and it's all about making America great again"

CONGRESSIONAL RACES
MA-SEN: Speculation already underway as to who Democrats would run for Elizabeth Warren's seat if Clinton picks her as VP candidate

Sidewire's Jonathan Allen floats a name: Joe Kennedy III, who was classmate of Chelsea Clinton's at Stanford U
NOTE: In immediate aftermath, Republican Gov. Charlie Baker would get to pick a replacement for Warren
Mass. Democratic state lawmakers have no plans to change those rules, Boston.com reported earlier this week

NC-SEN: NRSC airs TV ad starting Friday attacking "Radical Deborah Ross," Democrat running against GOP incumbent Richard Burr

Ad says Ross she lobbied against bill to establish sex offender registry
Flashback to January quote in Raleigh News & Observer from primary opponent Kevin Griffin: "If she wins the primary, she will spend the entire general election defending every action she took as the director of ACLU"
Ross, with more than 62% of vote, defeated Griffin, two other challengers in March 15 primary

HOUSE: Washington Post's Amber Phillips writes Democrats "need just about everything to go right" to net 30 seats and win control of the U.S. House

Flags 5 GOP-held districts that could signal if Democrats can get a majority:
MN-03 (Erik Paulsen), MT-AL (Ryan Zinke), IL-12 (Mike Bost), NY-21 (Elise Stefanik), CA-21 (David Valadao)
In at least two of those races, and maybe a third, Democratic candidates are little known, yet as Phillips points out: "In a true wave election, the candidate matters less than the party he or she belongs to"

FL-10: Democrat Bob Poe posts on Facebook he's HIV positive, AP reports

Says was diagnosed 18 yrs ago, is "perfectly healthy"; says wanted to disclose after meeting recently diagnosed person and wanted her to know it's not death sentence

SC-05: Vice President Joe Biden headlined fundraiser for Democrat Fran Person in Ardmore, Pa., near Philadelphia
Before it's here, it's on the Bloomberg Terminal.
LEARN MORE