Clinton Says Obama Will Underscore Serious Tasks of Presidency
By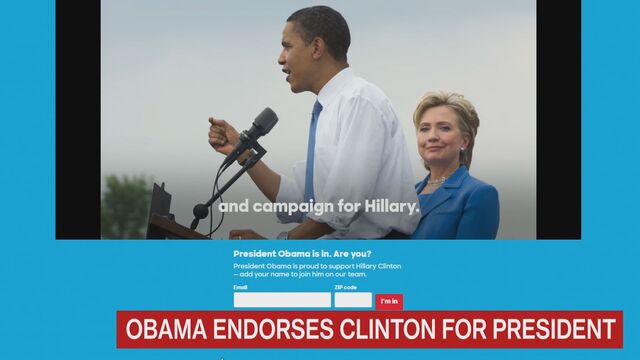 President Barack Obama's message to voters on behalf of presumptive Democratic nominee Hillary Clinton will focus on the serious responsibilities of the commander-in-chief, Clinton said on Thursday.
"We're choosing a president and commander-in-chief and he's uniquely able to talk to the American people about the knowledge, experience and temperament that the presidency requires," she said in an interview timed to the release of a video in which her 2008 primary opponent endorsed her.
In an online video posted on Thursday afternoon, Obama backed Clinton's bid for the White House in strong, enthusiastic terms.
"I don't think there's ever been someone so qualified to hold this office," Obama said. "I'm with her. I'm fired up. And I cannot wait to get out there and campaign for Hillary."
Next Wednesday, the two will make their first joint campaign stop appear together in Green Bay, Wisconsin, where she lost the Democratic primary to her opponent for the nomination, Vermont Senator Bernie Sanders. The presumptive Republican nominee, Donald Trump, lost in Wisconsin as well during his own primary. For the last seven elections, the state has picked a Democrat for president—some by tight margins.
"I want to be out there with him and have a chance to campaign with him," she said. "It just means so much to have a strong, substantive endorsement from the president. Obviously I value his opinion a great deal personally."
Clinton spoke shortly after Sanders met with the president at the White House. 
Addressing reporters after the meeting, Sanders said he would stay in the race through the District of Columbia primary on Tuesday, but struck a conciliatory tone as he stressed that his focus is on stopping Trump from becoming president. He also said he hopes to meet with Clinton soon, and she said that a meeting is on the horizon. "We're gonna look for a time that works for both of us as soon as we can get it scheduled," she said.
Asked about her interactions with Massachusetts Senator Elizabeth Warren, who's seen as a possible vice-presidential pick and a key figure in rallying the left after the primary season, Clinton said the two have spoken throughout the primary season.
"Of course I've spoken with Senator Warren in the last few weeks," Clinton said. "We've stayed in touch over the campaign and I'm very much looking forward to having her good advice and counsel as we move to the general election campaign. I have the highest regard for her."
The most recent conversation between the two that had been made public was a late 2014 sit-down at Clinton's Washington home.
Clinton added that she plans to work with Warren and others about how to implement her plans to rein in Wall Street.
"One thing that I'm particularly focused on, which I know means a lot to Senator Warren, is protecting the Consumer Protections Bureau and also protecting Dodd-Frank and the regulations that were put on Wall Street after the great recession from the promise to repeal them by Donald Trump," she said.