Brexit Debate Sees Johnson Attacked for Leadership Ambitions
by
Former London mayor draws barbs from Energy Secretary Rudd

Tory infighting dominating campaign, ex-Labour leader says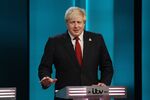 Boris Johnson came under concerted attack in a televised debate ahead of the U.K.'s referendum on EU membership, as his three opponents accused the figurehead of the campaign for a so-called Brexit of being more interested in using the referendum to further his career than protecting British workers.
The six participants largely repeated the arguments for and against EU membership that have characterized the campaign since Prime Minister David Cameron called the referendum in February. Energy Secretary Amber Rudd, Scottish First Minister Nicola Sturgeon and opposition Labour Party business spokeswoman Angela Eagle, the three "Remain" proponents, all alluded to the former London mayor's position as the bookmakers' favorite to take over from Cameron as premier and Conservative Party leader.
"You need to look at the numbers," Rudd said while answering a question about immigration during the two-hour ITV debate in London on Thursday. "Although I fear the only number that Boris is interested in is the one that says No. 10," she said, a reference to the prime minister's official residence at 10 Downing Street.
The debate highlighted the divisions within Cameron's Conservatives that have dominated the referendum campaign. Polls are inconclusive ahead of the June 23 vote, with "Remain" and "Leave" swapping the lead in recent weeks, causing the pound to fluctuate and leading to increasing personal attacks. On Sunday, former Conservative Prime Minister John Major dismissed Johnson as a "court jester."
Eagle alluded to Major's interview, repeating his line that the state-run National Health Service is as safe with Johnson and his fellow Brexit supporters "as a pet hamster would be with a hungry python." She also questioned whether he would protect workers' rights in the event of a vote to leave the EU.
"Boris, you don't seem to care about the millions of jobs that will be at risk if we leave the EU," Eagle said. "I think you only care about one job, and that's your next one."
Eagle is due to appear on Friday alongside fellow Labour lawmakers including the party's deputy leader, Tom Watson, to argue the case that a post-referendum Tory government led by Brexit supporters would be forced to balance the books by raising taxes and imposing deeper austerity measures.
Blue-on-Blue
A Labour study suggests the budgets of government departments may decline by 2.8 percent on top of already planned reductions, while social-security cuts and tax increases totaling more than 18 billion pounds ($26 billion) will be needed, according to a statement e-mailed by the party. The analysis is part of a concerted campaign by Labour to make its view heard, having been drowned out so far by the Tory discord.
"The sexy part of this campaign has been the blue-on-blue action," former Labour leader Ed Miliband told BBC Radio in a reference to the Tory party color. "So far not enough of our voters have heard that we are for in, for 'Remain.' We're for it because economically we're stronger, for workers' rights we're stronger."
Even so, two prominent Labour lawmakers, Dennis Skinner and John Mann, announced late Thursday they're backing "Leave."
In the TV debate, Sturgeon picked over the same themes as Eagle, urging voters to "not trust a word that Boris Johnson says about the NHS." She said the former mayor would unpick protections for workers in the event of a Brexit.
'Cameron's Job'
"Boris Johnson is not interested in your job," Sturgeon told the audience. "He's only interested in David Cameron's job."
Johnson was joined in the pro-Brexit camp by Labour lawmaker Gisela Stuart, herself a German immigrant, and by Energy Minister Andrea Leadsom, Rudd's subordinate. He didn't rise to the barbs and eschewed the normal jokes for which he is known, seeking to divert the argument back to the "Leave" campaign's core message that leaving the 28-nation bloc would stem immigration.
"There's a great temptation to try and reduce this argument to a lot of personal stuff," he said. "It is very important in the short time we've got that we focus on the issues."
Even so, after accusing the "Remain" campaign of "starting to degenerate again into Project Fear" with projections of a post-Brexit recession, Johnson went on to say that people should be "alarmed" by how the EU is developing.
'Terrorists and Murderers'
"On the streets of London, because of European judges, there are terrorists and murderers and very serious criminals that we cannot deport because the European Court is taking control over that kind of question," Johnson said.
Johnson was also criticized for the "Leave" campaign's repeated argument that Britain sends 350 million pounds a week to the EU, a figure discredited by a parliamentary panel and by the Office for National Statistics but emblazoned on the campaign bus on which Johnson has been touring the country.
"Get that lie off your bus," Eagle said. Sturgeon referred to it as a "giant whopper," a British term for a blatant untruth.
Rudd wound up the debate with an attack on Johnson's suitability for the Tory leadership.
"Boris, well, he is the life and soul of the party," she said. "But he is not the man you want driving you home at the end of the evening."
Before it's here, it's on the Bloomberg Terminal.
LEARN MORE