BAE Says Combat Drone Will Aid Fighter Pilots, Not Oust Them
by
Unmanned craft seen spearheading attacks for Eurofighter, F-35

Plans limited to ground-strike role -- dogfights not on agenda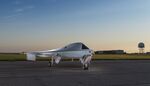 BAE Systems Plc lifted the veil on plans for the world's first combat drones, saying it's working toward a scenario in which the unmanned warplanes will fight alongside piloted aircraft rather than instead of them.
Europe's largest defense company has modeled a battlefield scenario in which a super-stealthy successor to its current Taranis drone penetrates enemy lines and destroys key ground defenses before calling in conventional strike aircraft.
The simulation, made public this week, indicates that the drone BAE expects to emerge from a 10-year development program with France would wield its own air-to-ground weapons but leave the bulk of bomb and missile attacks to jets such as the Eurofighter Typhoon and Lockheed Martin Corp.'s F-35.
Unlike current military drones such as the General Atomics Reaper, which are generally flown by ground-based "pilots," the new model would have the autonomy to reach its own operational decisions and would contact ground personnel only to initiate attacks, Martin Rowe-Willcocks, BAE's head of business development for future combat air systems, said in a briefing at the company's Warton plant in northwest England.
Fully Integrated
At the same time, BAE's simulation makes it clear that a future Unmanned Combat Air System would be fully integrated with conventional warplanes -- dispelling suggestions that it might make obsolete the newest fifth-generation fighters such as the F-35, of which Britain has ordered 138 examples, or the French Rafale produced by Dassault Aviation SA.
The parameters for a 2 billion-pound ($2.9 billion) demonstrator drone to be produced under the Franco-British accord signed in March and likely to pave the way for a prototype craft should be set by the two governments in the next nine or 12 months, Rowe-Willcocks said.
The demonstrator, to be built by six countries including jet-engine makers Rolls-Royce Holdings Plc and Safran SA, will combine elements of BAE's current Taranis model and the French Neuron from Thales SA.
No Photos
BAE this week displayed Taranis to defense reporters for only the second time since it was announced and then only from a distance of 15 meters (50 feet), sufficient to disguise a complex surface aimed at making the vehicle all but invisible to ground defenses. Photographs and even sketches were forbidden.
The U.K. manufacturer also confirmed that Taranis, named after the Celtic god of thunder and measuring 9 meters wide by and 4 meters high, has completed the third and final phase of flight testing at the hitherto undisclosed site of Woomera in South Australia, a defense range the size of England.
The F-35, formerly known as the Joint Strike Fighter and designated the Lightning II in the U.S. and U.K., is itself intended to have a lifetime of many decades, with only 160 from a total production run of 3,100 delivered so far.
Carrier Simulations
BAE builds the rear fuselage and tail for the model at Samlesbury, close to Warton, where output is set to triple from the 50 shipsets due to be produced this year. To cope with that ramp-up it's adding new buildings and exploring options for sending consignments to the U.S. by sea rather than airliner.
With the first U.K. F-35 due to arrive in August 2018, BAE is also working on integrating the warplane with the two new Royal Navy aircraft carriers it's building. That means conducting hundreds of simulated vertical landings and ski-jump takeoffs onto the carrier decks using huge screens at Warton.
Britain and France are betting that when a combat drone stealthier than the F-35 and with full autonomy enters service it will allow Europe to wipe out the U.S.'s lead in the current generation of military unmanned aerial vehicles.
There is, though, little prospect as yet, at least, of drones taking on the air-to-air combat role in which jets such as the Eurofighter specialize, according to Rowe-Willcocks.
"We won't be going dog-fighting," he said.
Before it's here, it's on the Bloomberg Terminal.
LEARN MORE