politics
Senate Seen as Resigned to Accepting House Puerto Rico Bill
By and
Some Democrats say island's urgent plight eclipses objections

Menendez says election shows residents oppose the deal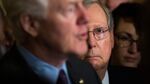 Legislation on Puerto Rico's debt crisis could face an easier time in the Senate than the House, with Democrats and Republicans alike pushing to get the issue resolved ahead of a July 1 deadline for the U.S. territory's next major payment due to bondholders.
There isn't much enthusiasm for the bill in the Senate, but the No. 2 Senate Republican,  John Cornyn of Texas, said he thinks Majority Leader Mitch McConnell of Kentucky would seek to pass it if it gets out of the House this week.
"They're bankrupt. And what's gonna happen if we don't act is there's going to be another demand for a taxpayer bailout, which I'm unalterably opposed to," Cornyn said. "So this is the only alternative I know of." Cornyn said that Saturday's election in Puerto Rico, where backers of the House bill were defeated, didn't change his view on the need for it.
The legislation would create a seven-member board to manage a restructuring of Puerto Rico's $70 billion debt and oversee the island's finances. The commonwealth and its agencies racked up the debt after years of borrowing to cover operating costs. The island faces a $2 billion principal and interest payment on July 1, including $805 million for general-obligation bonds, which Governor Alejandro Garcia Padilla has said the island cannot pay.
Several Democrats are strongly opposed to the bill, most notably presidential candidate Bernie Sanders of Vermont, and senators in either party could still throw up procedural hurdles that could slow the debate.
But many appear resigned to going along with the House bill, which is scheduled to get a vote in that chamber Thursday or Friday.
President Barack Obama met Wednesday with New York Representatives Nydia Velazquez and Jose Serrano, Illinois Representative Luis Gutierrez and Puerto Rico's delegate in Congress, Pedro Pierluisi, to discuss support for the legislation, a White House official said.
'Desperate Situation'
Cornyn's Democratic counterpart, Minority Whip Dick Durbin of Illinois, said the urgency of the island's plight outweighs other concerns, including a provision enabling a lowered minimum wage for younger workers.
"We're in a desperate situation July 1, and Puerto Rico and its economy are struggling. I don't like this bill, but I may not have any alternatives. We'll see," he said.
Several top Democrats are still taking a wait-and-see approach. Minority Leader Harry Reid of Nevada; Ron Wyden of Oregon, the ranking member of the Finance Committee; and Patrick Leahy of Vermont, the ranking member of the Judiciary Committee, all said they would examine the bill that comes out of the House.
"I want to make sure it's actually helpful to Puerto Rico and not a payoff to speculators," Leahy said.
Attempts to Amend
Senate Finance Chairman Orrin Hatch said Wednesday that if the House passes its Puerto Rico debt-restructuring bill, the Senate is "going to have to support it" even though "I don't think it's a very good bill in many ways." He said House leaders have told him they "feel very confident" it will pass.
If the House fails to pass the Puerto Rico bill, Hatch said "I've got a bill ready to go" that would give the fiscal control board more power to end mismanagement of the island's finances.
Senator Bill Nelson of Florida said it's only natural that people in Puerto Rico are opposed to the oversight board created by the bill, H.R. 5278. "But that's the only way you're going to get it through the Congress, on what was perceived to be a period of irresponsible spending," Nelson said.
Nelson said "the truth is somewhere in the middle. Puerto Rico has just been hit by one thing after another. They don't have the same kind of Medicaid reimbursement that other states have. That's not fair," he said. "They've got high unemployment and therefore less tax revenue coming in and that's hurt them as well. And now, compounding everything is the Zika crisis."
"It's just one thing compounding on another. So we have to pass something," Nelson added, calling the White House-backed House bill "a good first start."
Island Opposition
The results of Puerto Rico's elections, however, where voters defeated politicians who backed the deal, had Senator Bob Menendez of New Jersey calling again for changes in the bill, known as PROMESA.
"It was a rejection of PROMESA and I think that is consistent not only with what I've heard from not only from my contacts and relationships on the island but also what I'm hearing from the Puerto Rican diaspora here in the United States," he said.
"I hope we can get to a better place and I worry that the administration, especially the Treasury Department keeps saying, 'You know it's either this or nothing.' I didn't know that's the legislative process," he said.
— With assistance by Justin Sink, and James Rowley
(
Updates with Obama meeting in seventh paragraph, Hatch comments in 12th paragraph.
)
Before it's here, it's on the Bloomberg Terminal.
LEARN MORE