Draghi Buying Junk Bonds Shows ECB Will Do Whatever It Takes
by , , and
ECB purchases included bonds from Telecom Italia on Wednesday

Central bank bought some notes with high-yield ratings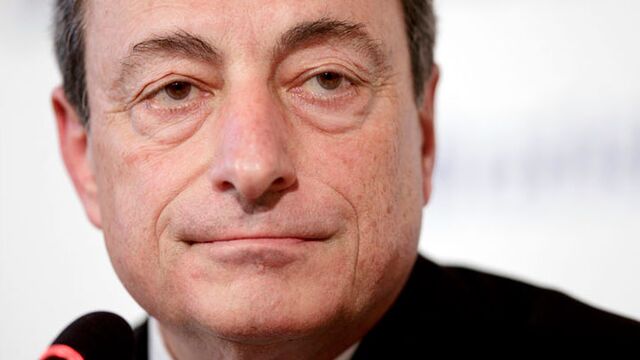 Since a surprise interest-rate cut at his first meeting as European Central Bank President, Mario Draghi has shown a penchant for pushing the envelope.
QuickTake Europe's QE Quandary
The bank's entry into the corporate bond market on Wednesday was no exception: buying bonds with junk ratings. The second day didn't disappoint either, with purchases of notes from troubled German carmaker Volkswagen AG.
By casting his net as wide as the program allows, Draghi ensured that the first day of corporate bond purchases made an impact. While the ECB has said it would buy bonds from companies with a single investment-grade rating, investors expected the central bank to start with the region's highest-rated securities.
"It's been an aggressive start to the program," said Jeroen van den Broek, ING Groep NV's Amsterdam-based head of debt strategy and research. "The wide-reaching nature of the purchases shows Draghi means business."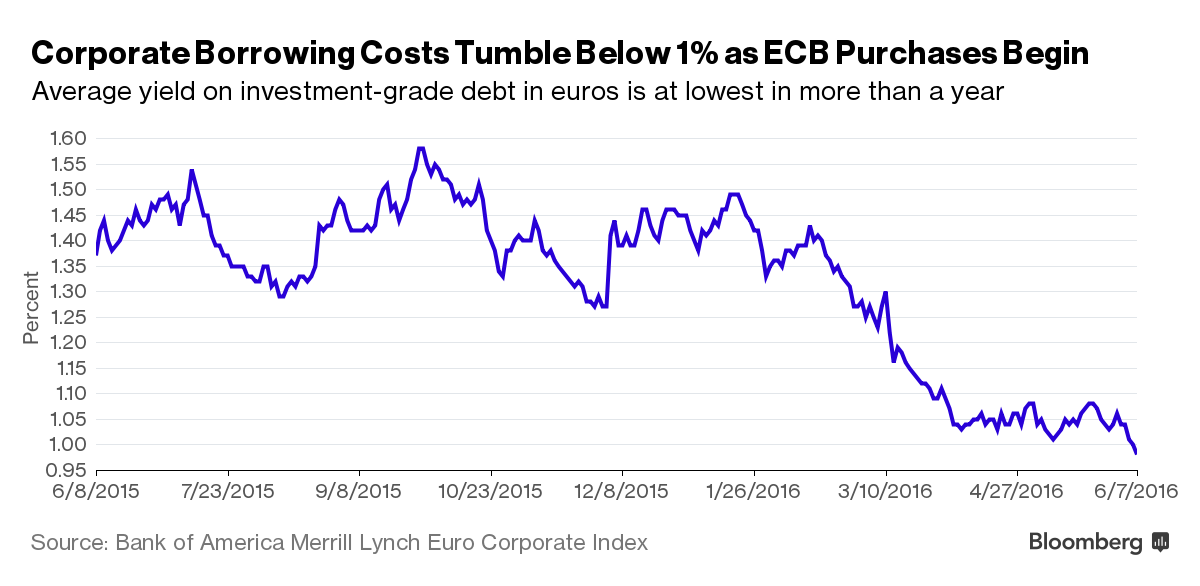 Purchases on the first day included notes from Telecom Italia SpA, according to people familiar with the matter, who aren't authorized to speak about it and asked not to be identified. Italy's biggest phone company has speculative-grade ratings at both Moody's Investors Service and S&P Global Ratings. The company's bonds only qualify for the central bank's purchase program because Fitch Ratings ranks it at investment grade.
As well as Volkswagen, purchases on Thursday also included bonds of tiremaker Continental AG and of French mobile company Orange SA, according to another person, who's not authorized to speak about it and asked not to be identified. The companies only have investment grade ratings.
An ECB spokesman declined to comment on purchases made under the corporate bond program.
Draghi has a track record of doing the unexpected. His first decision after taking office in 2011 was a surprise interest-rate cut. An off-the-cuff comment during a speech in July 2012 that he'd do whatever it takes to save the euro, followed by a pledge to buy the debt of stressed nations, may have prevented the break-up of the currency bloc. Under his watch, the ECB kept funds flowing to Greek lenders even as the government veered toward default, and became the first major central bank to reduce interest rates below zero.
Telecom Italia's bonds are in Bank of America Merrill Lynch's Euro High Yield Index and credit-default swaps insuring the notes against losses are part of the Markit iTraxx Crossover Index linked to companies with mostly junk ratings.
Moody's and S&P have ranked Telecom Italia one level below investment grade, at Ba1 and an equivalent BB+ respectively, since 2013. Fitch puts the company at the lowest investment-grade rating and only revised its outlook on that level to stable from negative in November.
"This dispels any doubts investors may have had about the commitment of the ECB and the central banks to tackle lower-rated names," said Alex Eventon, a Paris-based fund manager at Oddo Meriten Asset Management which oversees 46 billion euros ($52 billion). "Telecom Italia is firmly at the weak end of the spectrum the ECB can buy."
Telecom Italia used to have three investment-grade ratings and the notes are still held by many bondholders that focus on higher rated debt, said Saida Eggerstedt, who helps oversee about 29 billion euros of corporate bonds at Deka Investment GmbH in Frankfurt.
"Telecom Italia's bonds are very liquid and as a peripheral company with mixed ratings it's the kind of borrower the ECB wants to target," she said.
Investors can be reassured that the ECB won't immediately dump the bonds if the ratings fall below the criteria for purchase. The central bank said last week securities can be retained even if they lose all their investment-grade ratings.
Investors have snapped up corporate bonds on the promise of central bank purchases, driving up prices and cutting borrowing costs. The average yield for investment-grade euro notes tumbled to 0.98 percent on Wednesday, the lowest in more than a year, according to Bank of America Merrill Lynch index data. Junk bonds have also rallied, with the average yield falling to a one-year low at 4.61 percent, the index data show.
The ECB also bought 10-year bonds from Telefonica SA, the biggest phone carrier in Spain, and notes issued by Assicurazioni Generali SpA, Italy's biggest insurer, said the people familiar with the matter.
"Draghi knows the ECB needed to come out with a big punch on the first day of its corporate purchase program to maintain credibility and confidence in his willingness to act," said Regina Borromeo, a London-based money manager at Brandywine Global Investment Management, which oversees $70 billion of assets.
Before it's here, it's on the Bloomberg Terminal.
LEARN MORE