Valeant Walks Knife's Edge of Debt Limits With Forecast Cut
By
Bonds fall to lowest in a month after earnings report

New Ebitda projects are close to limit of debt agreements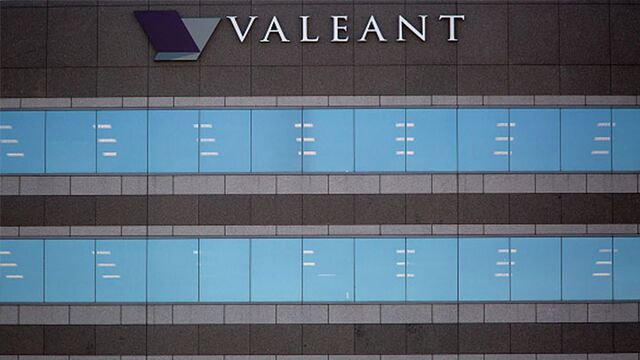 Valeant Pharmaceuticals International Inc. is walking a very fine line with its $31 billion of debt.
On Tuesday, the drugmaker for the second time this year cut its forecast of a measure of earnings widely followed by lenders. The profit figure -- adjusted earnings before interest, taxes, depreciation and amortization, or Ebitda, is projected to drop to $4.8 billion to $4.95 billion, down from a March estimate of $5.6 billion to $5.8 billion.
That puts Valeant right up against financial thresholds it has to maintain to comply with its agreements with lenders, who are watching closely after Valeant's business has suffered under pressure from politicians and the health insurers. If the company doesn't stay in compliance with earnings and debt-coverage thresholds, the lenders could demand repayment.
"Any further reductions in earnings for the year will put them at risk for paying down debt," said Bloomberg Intelligence analyst Elizabeth Krutoholow. "Valeant's lower guidance may be more reasonable, but debt repayment concerns remain." Ebitda stands for Earnings before interest, taxes, depreciation and amortization.
A Valeant spokesman declined to comment.
Valeant expects to have $1.7 billion of cash flow available to service debt in 2016 and will remain in compliance with covenants in its credit agreement this year if it can stick to guidance, the company said in a presentation that accompanied earnings.
Bonds Fall
Valeant bonds tumbled to their lowest in about a month. Its most actively traded bond, $3.25 billion of 6.125 percent notes that mature in 2025, lost 1 cent to trade at 81.75 cents on the dollar and yield 9.18 percent at 4:42 p.m. in New York, according to Trace, the bond-price reporting system of the Financial Industry Regulatory Authority.
"The bonds are pricing in how wary investors are of this debt," Vicki Bryan, an analyst at debt-research firm Gimme Credit, said in a telephone interview. "I don't think management was being cagey on the numbers -- they're still getting a handle on trends. The second-quarter numbers will be even more indicative because the first quarter included more contributions from acquisitions."
Using the low-end of the company's 2016 Ebitda estimate, and its $1.7 billion of cash interest expenses, Valeant's interest coverage ratio will be 2.82 times in 2016, according to data compiled by Bloomberg. That's just enough to keep it from breaching agreements with lenders on its $12.7 billion of loans that require it to generate enough Ebitda in a year to cover interest expenses at least 2.75 times.
Pain Felt
"The revision was substantial and has highlighted just how much pain has been felt" in Valeant's dermatology and gastrointestinal segments, CreditSights Inc. analysts led by Eric Axon wrote in a note Tuesday. Sales in the dermatology business fell 43 percent from a year ago, and prescription ophthalmology products fell 30 percent, the company said Tuesday.
New Chief Executive Officer Joseph Papa also reduced the company's revenue expectation to between $9.9 billion to $10.1 billion, from $11 billion to $11.2 billion.
The cut marks a major reset point as the once high-flying company tries to get back on its feet. Papa outlined on the conference call his plan to stabilize the company -- including divesting non-core assets to ensure its ability to meet debt payments -- but that did little to reassure investors. The shares fell as much as 22 percent, and were down 15 percent to $24.64 at 3:30 p.m. in New York.
Cash Flow
While the drug maker may be able to reduce debt by "some" if it generates roughly $1.4 billion of discretionary free cash flow this year, that cash flow number would leave room for "little actual deleveraging," Axon, the CreditSights analyst wrote.
The drugmaker has been restricted from making certain acquisitions worth more than $250 million until it reduces leverage below 4.5 times and files a delayed financial report for the first quarter. While the company on Tuesday submitted the report, leverage remains an issue. Using the most recent guidance, Valeant's net leverage ratio will be "approximately" six times by the end of this year, Linda LaGorga, Valeant's treasurer, said on the call.
"Reducing our total leverage is one of our priorities," Linda LaGorga said on the call.
Bryan said that attempts by Valeant to cater to bondholder concerns suggests the company will look to "restructure some components" of its debt. A debt refinancing would likely result in Valeant having to compensate bondholders with higher interest costs, she said.
The Valeant turnaround will be a "multi-year process," Papa said on the call. "We have a stabilization plan and we will execute on this plan. We've hit a few speed bumps." He said he expects it to take three to six months to steady Valeant, before a fuller transformation of the business over the long term.
— With assistance by Doni Bloomfield, and Cynthia Koons
Before it's here, it's on the Bloomberg Terminal.
LEARN MORE