markets
German 10-Year Bond Yield Falls to Record on Global Growth Risks
By
Europe's benchmark government yield surpasses its 2015 low

Slowdown in U.S. labor market, U.K. referendum adding to risks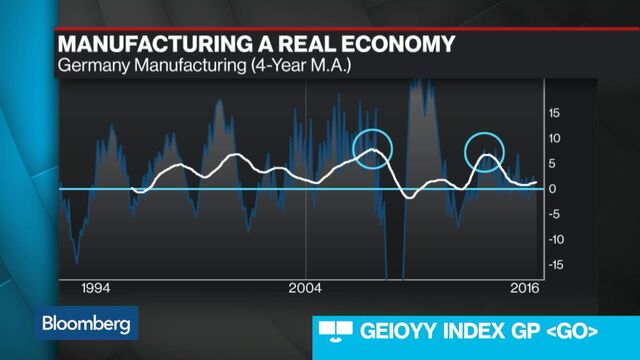 Germany's 10-year bond yield fell to a record low amid a surge in demand for the safest fixed-income assets. 
The securities, which act as Europe's benchmark sovereign debt, rose as investors digested signs of a slowdown in the U.S. labor market, contended with a referendum on the U.K.'s membership of the European Union and absorbed the effects of unprecedented monetary stimulus.

"There is a long, long list of reasons why bund yields are this low," said Peter Chatwell, head of rates strategy at Mizuho International Plc in London. "And uncertainty over the U.K. referendum makes it very difficult to contemplate holding a short position at the current time," he said, referring to bets the price will fall.
Germany's 10-year yield fell to as low as 0.045 percent, the least on record. It was down four basis points, or 0.04 percentage points, at 0.05 percent as of the 5 p.m. London time close. The 0.5 percent bund due in February 2026 rose 0.36, or 3.60 euros per 1,000-euro ($1,135) face amount, to 104.35.
The yield surpassed the previous record of 0.049 percent set in April 2015.
The move leaves Germany on the verge of joining Japan and Switzerland in having 10-year bonds that yield less than zero. About $2.7 trillion, or 42 percent, of securities in the Bloomberg Eurozone Sovereign Bond Index already have negative yields, which means investors will receive less upon maturity than what they paid to buy the debt.
Worldwide Rally
Government bonds rose across the world, with 10-year U.S. Treasury yields approaching the lowest in two months. U.K. gilt yields fell to within four basis points of their all-time low of 1.226 percent set in February.
The ECB predicts the euro-region economy will slow in the second quarter, even as data Tuesday confirmed it grew at the fastest pace in a year in the first three months of 2016. Officials see inflation in the 19-nation bloc staying low or even turning negative.
Among the downside risks cited by ECB President Mario Draghi last week were subdued growth in emerging markets, slow progress in structural euro-zone reforms and the prospect of a Brexit vote in just over two weeks' time. He made the warnings after keeping interest rates at all-time lows and quantitative easing unchanged.
"Bund yields are this low as a combination of very low inflation, expectations that the ECB will probably need to do more monetary easing over the medium term to get inflation sustainably back to target, fears of the U.S. economic cycle having peaked -- and of course the uncertainty of the U.K. referendum," said Mizuho's Chatwell.
Watch Next: German 10-Year Bund Yield Tumbles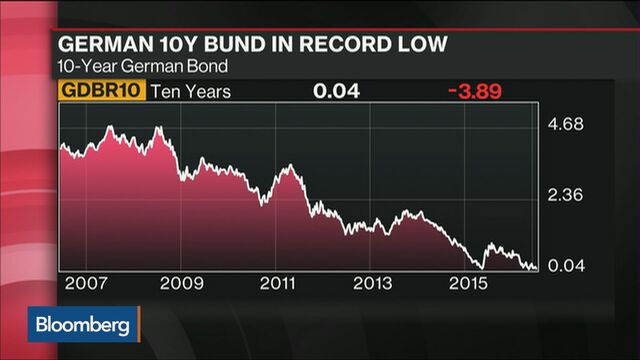 Before it's here, it's on the Bloomberg Terminal.
LEARN MORE