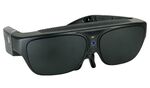 Innovator Mark Greget
Age 39
Title Co-founder and chief executive officer of NuEyes in Newport Beach, Calif.
Form and function
NuEyes, a combination of custom software and smart glasses, is designed to restore sight to people with serious vision loss. A camera on the front of the blacked-out glasses acts as eyes. Captured images are projected on the lenses.
Origin
Greget, a U.S. Navy veteran, began developing NuEyes after spending five years distributing devices for the blind.
Specs
The glasses, made by government contractor Osterhout Design Group, are equipped with an autofocus camera with 720-pixel resolution, comparable to a low-end HDTV.

Use
A speech-recognition feature lets wearers use voice commands to improve the image projected through the lenses to best remedy their particular condition. Earbuds let users listen to a text reader or other media via a Bluetooth-connected device.
Cost
The price is about $6,000.
Market
People with significant loss of vision from macular degeneration, glaucoma, and retinitis pigmentosa—the leading causes of vision loss worldwide—can benefit from the glasses.
Funding
Greget financed the software development with about $100,000 of his own money and $350,000 from family and friends.
Next Steps
NuEyes went on sale in April. "The patients that have tried it have been very happy," says Michael Samuel, a surgeon and researcher at the Retina Institute in Los Angeles, adding that cost is a limiting factor. Veterans Affairs hospitals have been placing orders. Greget says another model coming later this year will include access to e-mail, social media, and an internet browser.
Before it's here, it's on the Bloomberg Terminal.
LEARN MORE