Chemours Rebounds From Selloff Sparked by Citron Short Call
by and
Citron's Left sees company as 'bankruptcy waiting to happen'

Chemours on hook for liabilities in Teflon chemicals lawsuits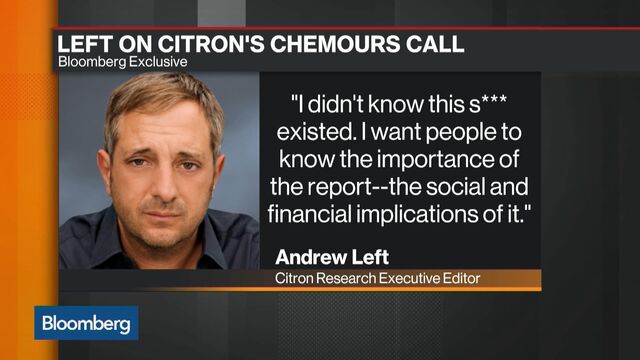 Chemours Co., the titanium-dioxide pigment maker spun off from DuPont Co., staged a late rally to rebound from the biggest drop in almost five months sparked by a Citron Research report calling the company "a bankruptcy waiting to happen."
The shares closed higher by 0.7 percent at $8.86, rallying from a loss of as much as 15 percent as investors assessed the short seller's report. A Citigroup Inc. research note suggested it contained nothing factually new.
In the spinoff, Chemours assumed DuPont's liabilities including 3,500 lawsuits from people living near a Teflon plant in Parkersburg, West Virginia, who claim they were harmed by PFOA, also known as C-8, a chemical used to make non-stick coatings and stain-resistant fabrics. DuPont was found liable for a woman's kidney cancer in the first trial, and another began this week.

Chemours may face more than $5 billion in PFOA liabilities, 10 times as much as some analysts estimate, given the costs of medical monitoring, cleanup, compensatory and punitive damages and legal fees, Citron said in its report. The company is likely to go bankrupt within 18 months, according to the report.
"It's serious. It's going to zero," Andrew Left, owner of Citron, said in a telephone interview. "I don't care when it goes to zero but the entity goes to zero."
Strongly Refutes
Chemours "strongly refutes the report" by Citron, Janet Smith, a spokeswoman for the Wilmington, Delaware-based company, said in an e-mail Thursday. Chemours is cutting costs by $200 million this year as it executes a long-term plan to boost earnings and reduce debt, she said. Earnings this year will rise from 2015, Smith said.
The shares plunged to a record in January after analysts at Barclays Plc said prices for titanium dioxode probably won't recover this year, and is down 58 percent since the company started trading in June of 2015.
Left rose to prominence in October when one of his reports, a bearish analysis of pharmaceutical giant Valeant Pharmaceuticals International Inc., came out just before the company's shares plunged 40 percent on concerns about its drug-marketing practices. Valeant has denied his claims. Before that, Left spent more than a decade operating his stock-commentary site, publishing more than 150 reports.
The U.S. Environmental Protection Agency last month reduced the public's recommended level of exposure to PFOA. A study of 70,000 Parkersburg area residents found a probable link between the chemical and six diseases, including kidney cancer, testicular cancer, and ulcerative colitis. DuPont and Chemours have been paying for water treatment in some of the affected communities.
"This is one monster liability," Left said. "DuPont took all their environmental liabilities, spun it off into a company, dumped it onto America."
Before it's here, it's on the Bloomberg Terminal.
LEARN MORE