Trump Will Be in U.K. on Day Brexit Vote Result Is Announced
by
Visit is for opening of Turnberry golf resort in Scotland

Trip comes after clashes with U.K. politicians on Muslim ban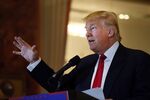 Donald Trump will visit the U.K. on the day the result of the country's referendum on European Union membership is announced, after clashing with Prime Minister David Cameron last year over a campaign proposal to ban Muslims from entering the U.S. The trip, though, is for golf rather than politics.
The presumptive Republican nominee for president will attend the official opening ceremony for the Turnberry resort he owns on the west coast of Scotland on June 24. The golf club's public-relations company said his schedule is still being finalized. The final result of the vote on a so-called Brexit is due to be announced at about breakfast time after an all-night count, according to the U.K.'s Electoral Commission.
The date of the ceremony was set before the referendum was scheduled, according to Lisa McGhee, a spokeswoman for the course. Trump has spoken out in favor of Brexit, telling Fox News last month that Britain would be "better off" out of the EU.
Trump's love of his mother's home of Scotland has been overshadowed of late by the rhetoric crossing back and forth over the Atlantic during his presidential campaign. Cameron called the proposal on Muslims "divisive, stupid and wrong," while Scottish First Minister Nicola Sturgeon stripped Trump of his role as a business ambassador for Scotland.
Trump first said last month he's unlikely to have a good relationship with Cameron before going back on those comments and calling the premier "a nice guy." The prime minister said on Friday he would be happy to meet up if the candidate visits before the U.S election. Cameron said the "special relationship" between Britain and the U.S. will survive whoever is president or prime minister.
Trump, whose mother came from the Isle of Lewis, has been involved in developing Scottish golf resorts for almost a decade. He fought with local residents and rural planners over his complex in Aberdeenshire before taking legal action over off-shore wind turbines championed by the Scottish government.
Turnberry has been less controversial. Trump bought the club in 2014 before selling off its fixtures and fittings and renovating it. The refurbishment includes upgrades to 103 guest rooms, suites and a lighthouse turned into a presidential suite.
Before it's here, it's on the Bloomberg Terminal.
LEARN MORE