Establishment Lane
Trump Reassures Donors He Won't Try to Oust Ryan or McConnell
Coal industry executives Joe and Kelly Craft say they're pleased with the presumptive Republican presidential nominee's promise to keep party leaders in their jobs.
By and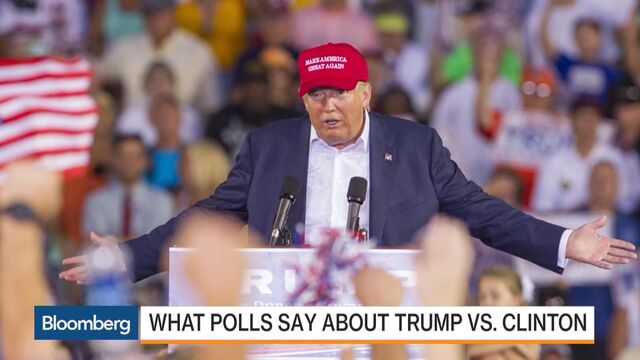 Donald Trump has pitched himself as an insurgent who will upend Washington, but he is privately telling big donors that he's committed to keeping the two most senior establishment Republicans in their congressional leadership posts.
Trump's pledge that he won't try to oust House Speaker Paul Ryan or Senate Majority Leader Mitch McConnell was a key factor in the decision by coal industry executives Joe and Kelly Craft to raise money for the presumptive Republican presidential nominee, they say. 
"That is a big priority for Joe and I—and from talking directly to Donald Trump I know for a fact it is a big deal to him," Kelly Knight Craft, a Kentucky native, said in an interview. "He made that very clear."
The reassurances are a window into Trump's effort to convince establishment Republicans that he's not trying to hijack the party's infrastructure and that he'll cooperate with other party leaders if elected president.
QuickTake U.S. Campaign Finance
His remarks to the Crafts, who met recently with the candidate at Trump Tower in New York, came amid Trump's ongoing stand-off with Ryan, who has withheld his support from the candidate.
Trump spokeswoman Hope Hicks backed up Craft's account, saying that Trump has made his commitment to working with Ryan and McConnell known to other donors and that "he has said that publicly."
Ryan's holdout has led to speculation that Trump, 69, might support the primary challenger in Ryan's home district, or to try to orchestrate a coup inside the Republican caucus to oust McConnell.
Establishment Donors
If Trump wanted to deliver a veiled threat, he could have delivered it through the Crafts, who are close with McConnell, 74, and have hosted fundraisers for both him and Ryan, 46.
Joe Craft has donated at least $4.6 million to various political groups since 2007, according to fundraising records, with most, but not all of it, going to support Republicans. Craft is the chairman and CEO of Alliance Resource Partners LP, a coal producer with significant operations in Kentucky and Illinois. 
McConnell has expressed measured support for Trump, but Ryan has said he still wants assurances about the candidate's commitment to conservative values. 
'Victory Committee'
The Crafts have agreed to serve on the Trump Victory Committee, a group of 20 influential Republicans who will try to drum up millions for the Trump campaign and the Republican National Committee. 
Kelly Craft said she and her husband know that by vouching for Trump, they're putting their own credibility on the line.
"When someone gives us a check, we're looking at that as they're investing not only in that candidate—investing in Paul Ryan or investing in Mitch McConnell or investing in Donald Trump—they're investing in us, and I take that as a responsibility. I don't take that lightly. We feel responsible to them," she said.
The Crafts are now focused on raising "as much money as we possibly can," she said.
It would be unusual for a president to try to orchestrate a change of his party's leaders in Congress. Those kinds of moves usually are prompted by internal pressure in a party's caucus, or following an electoral defeat, not from the executive branch, Republican strategist Ryan Williams said.
When Mississippi Senator Trent Lott made racially charged remarks at South Carolina Republican Strom Thurmond's 100th birthday party in 2002, there was pressure for Lott to resign his leadership post. But the public criticism didn't come from President George W. Bush; it came from his brother Jeb, and from Secretary of State Colin Powell and others.
Williams said "it's a smart move" for Trump to telegraph that he'll work with Ryan and McConnell. Part of Trump's message is that he's a dealmaker, so "it's important to have a good relationship with leaders in the House and Senate if he intends to do that," he added.
"There's no question Trump would be his own man if he becomes president, but it's encouraging to see he's trying to reach out and build bridges within the party to some extent," Williams said.