Redstone Grandchild Plans to Take Legal Steps Against Shari
by and
Keryn Redstone aims to work with Viacom directors in dispute

Former girlfriend Herzer seeks new trial in competency case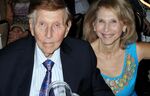 Keryn Redstone, granddaughter of Sumner Redstone, has retained the lawyer who represents the media billionaire's former girlfriend and said she plans to work with Viacom Inc.'s directors in their legal battle for control of the media company.
The granddaughter is joining a legal fight that started with a dispute between the elder Redstone, 93, and his former girlfriend Manuela Herzer. It has since turned into a battle between the aging media mogul, his daughter Shari and members of Viacom's board, including top management.
"My experience is the same as the Viacom directors -- Shari will not let us see Sumner," Keryn Redstone, Shari Redstone's niece, said Wednesday in an e-mailed statement sent by her lawyer Pierce O'Donnell. "Because I was in the house, I know that my grandfather has been incompetent since last October."
Citing fresh evidence and alleged judicial errors, a lawyer for Herzer on Wednesday filed to seek a new trial following her unsuccessful challenge to Redstone's competency when he removed her as his health-care agent last October and kicked her out of his Los Angeles mansion. A Los Angeles judge threw out the case last month after Redstone, in videotaped testimony laced with obscenities, said he wanted Herzer out of his life.
Redstone last month removed Viacom Chief Executive Officer Philippe Dauman and board member George Abrams from their roles in his trust and family holding company National Amusements Inc. In a statement Monday, Viacom's lead director Frederic Salerno said he and the other independent directors would oppose any effort by Sumner and Shari to remove them. Through a spokeswoman, Shari Redstone said Tuesday that Viacom shareholders want new management.
For related coverage click here
Keryn Redstone said she last saw her grandfather for 15 minutes on Valentine's Day, when he sat "lifeless and flanked by his nurses and caretaker, he seemed unaware of his surroundings."
The 34-year-old is the eldest daughter of Brent Redstone, Sumner's only son. Brent sued his father and sister in 2006 and was later bought out of the family company, which owns the majority of the voting shares of Viacom and CBS Corp.
She tried to join Herzer's competency suit against Sumner earlier this year. Her request was denied by the judge. She was named as a defendant in a suit brought last month by Dauman against Sumner and Shari because she is a beneficiary of the family trust.
In her statement, Keryn Redstone said she moved from her Colorado home to Los Angeles last year to live with her grandfather. Her last visit in February was a sad one, she said.
'Quietly Sobbed'
"I quietly sobbed as I held his cold hand before they made me leave and never
let me return, despite all my unanswered e-mails, text messages, and voice
messages to his home, lawyers, personal secretary, and doctors as well as Shari," she said in the statement.
In the Wednesday filing in California state court, Herzer said a new trial is warranted because, among other reasons, Dauman now alleges that Redstone is incapacitated and under the undue influence of his daughter. Last year, Dauman filed a declaration in opposition to Herzer's allegations that Redstone was incompetent, stating the media baron was "engaged and attentive" when they met and discussed business matters.
"While we have not made a final decision to move for a new trial, we will continue our investigation to learn more about the cover-up that infected the trial court proceedings," O'Donnell said in a statement.
Representatives of Sumner and Shari Redstone didn't immediately respond to e-mails after regular business hours seeking comment on Herzer's filing.
The case is In re Advance Health Care Directive of Sumner M. Redstone,
BP168725, Los Angeles County Superior Court.
Before it's here, it's on the Bloomberg Terminal.
LEARN MORE