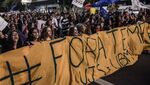 Two years on, a corruption investigation in Brazil is still producing fresh revelations. Overshadowed at times by the broader political perils of President Dilma Rousseff -- who is suspended from office and facing an impeachment trial in the Senate -- the probe known as Carwash has implicated state-run oil giant Petrobras, large construction companies and politicians, and is creating havoc for the nascent administration of the acting president, Michel Temer. Court documents indicate that investigators are also reviewing possible payoffs at two multi-billion dollar projects related to this summer's Olympics in Rio de Janeiro.
1. What's happening?
Operation Carwash uncovered a kickback and corruption scandal involving Petrobras and the building companies that are among the nation's biggest political donors. Prosecutors say construction companies formed cartels to win inflated contracts at Petrobras, giving kickbacks to executives and politicians. The name Carwash comes from the preferred money-laundering location -- a Brasilia gas station -- of Alberto Youssef, Brazil's black-market central banker, who disclosed the kickback system to law enforcement while being interrogated after an arrest.
2. What's the latest?
Two ministers quit Temer's cabinet in recent weeks after being nicked by the Carwash probe. Romero Juca stepped down as budget minister after a newspaper reported he had been taped intending to obstruct the investigation. Then Fabiano Silveira, appointed by Temer to lead a new anti-corruption ministry, resigned amid reports that he had been taped criticizing the investigation and offering advice to a politician under investigation.
3. What's the impact?

The departures weaken a government whose legitimacy is already being questioned, may force Temer to back off some of the more aggressive economic reforms he is pushing, and could boost Rousseff's defense that her opponents are tainted by corruption as well.
4. What's with all the leaked tapes?
Most of the recordings have emerged from people seeking to reduce their sentence in plea bargains by providing investigators with information on other suspects. The audio involving Silveira was published by Fantastico, a show on Globo TV. Folha de S. Paulo newspaper broke the news about conversations that took place in March between Juca, who was then a senator, and a former oil executive. Jimena Blanco, head of Latin America at Verisk Maplecroft, wrote in a note to clients that since six other ministers in Temer's cabinet are being investigated by Carwash, more recordings may emerge.
5. How high does this go?
While there have been no accusations of wrongdoing against Temer, several of his closest allies are being investigated, including the heads of both houses of Congress. A March news report alleging that Rousseff had tried to interfere with the investigation rattled markets and prompted a denial by Brazil's attorney general. Rousseff's predecessor as president, Luiz Inacio Lula da Silva, is under scrutiny by Carwash investigators, though that didn't stop Rousseff from trying to appoint him as her chief of staff.
The Reference Shelf:
A Bloomberg QuickTake explainer on turmoil in Brazil.
A Bloomberg article on how the Carwash probe is spreading to the U.S.
A comic take on the Petrobras scandal.
Quotes from this Article
Before it's here, it's on the Bloomberg Terminal.
LEARN MORE