San Miguel Ends Telco Push With $1.5 Billion 'Master Stroke'
by and
Sale of carrier to PLDT, Globe to boost funding for projects

Shares of conglomerate, carriers soar after deal announced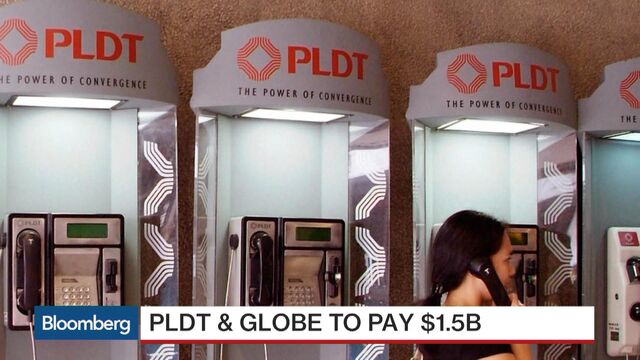 San Miguel Corp. President Ramon Ang gave up his telecom ambitions by agreeing to a $1.5 billion deal that raises money for his energy, infrastructure and other businesses' expansion.
Philippine Long Distance Telephone Co. and Globe Telecom Inc. acquired the telecommunications business of San Miguel Corp. for about 70 billion pesos ($1.5 billion), including debt, according to statements from the companies Monday. PLDT and Globe are each taking a 50 percent stake in the business and saw their shares soar after the announcement.
San Miguel is selling its telecommunication business two months after it ended talks with Telstra Corp. for a joint investment in a new mobile network in the Philippines after they failed to agree on terms. The conglomerate built the first stages of a phone network with Telstra's help to challenge PLDT, the former telephone monopoly, and Globe, the nation's only other wireless carrier.
"It is a master stroke for Ang and San Miguel," said Jonathan Ravelas, chief market strategist at Manila-based BDO Unibank Inc. "They will be getting a large sum and sparing themselves from a bruising fight in an industry that is getting more competitive and bloodier had Ang pushed through with telecoms."

The deal gives PLDT and Globe access to the 700 megahertz spectrum that regulators had largely assigned to three companies including San Miguel's Liberty Telecoms Holdings Inc. unit. The carriers paid up for the frequency because it is crucial to enhance wireless Internet speed and quality as it can pass through concrete walls.
"Moving forward, we expect to fully recover what we have invested over the past six years building our network," Ang said in a statement. "But more importantly, the public should expect to get faster, affordable Internet access very soon with this deal."
Faster Internet
The country's president-elect, Rodrigo Duterte, last week warned local phone companies to improve their service or he would open the market to a foreign carrier. The Philippines ranks 101 among 144 countries and regions in average internet connection speed at 3.1 megabits per second, compared with the 5.1 megabit global average, according to a survey Akamai Technologies Inc. published in September.
Under the agreement, PLDT and Globe will pay 52.08 billion pesos for all the shares of the unit, Vega Telecom Inc., and assume about 17.02 billion of liabilities, according to the statement. Vega owns an 87 percent stake in San Miguel's Liberty Telecoms and stakes in the conglomerate's companies including Bell Telecommunication Philippines Inc., Eastern Telecom Philippines Inc., Express Telecom and Tori Spectrum.
"On the surface and in the short-term, it looks very expensive," said James Lago, head of research at Manila-based PCCI Securities Brokers Corp. "But the assets will be owned long-term, so PLDT and Globe will find a way to get value."
Prior to Monday's agreement, PLDT and Globe had raised capital spending to boost their digital network capacity before San Miguel's entry.
The return of some frequencies to the government under terms of the agreement will allow for a third competitor to enter the cell phone services market, the three companies said in separate statements. 
Shares Soar
PLDT jumped 9.1 percent, the most since March 14, as of the close of trading in Manila. Globe gained 5.6 percent, while San Miguel rose 5.8 percent. Liberty Telecoms tumbled 20 percent.
PLDT will fund the acquisition partly with proceeds from the sale of a 25 percent stake in Beacon Electric Asset Holdings Inc. to Metro Pacific Investment Corp. for 26.2 billion pesos. Metro Pacific will pay PLDT about 17 billion pesos in cash and settle the 9 billion balance over four years, Metro Pacific Chief Financial Officer David Nicol said.
Globe will fund 98 percent of the purchase cost with debt and 2 percent with internal funds, it said. The agreement means Globe can "immediately unlock benefits of underutilized frequencies," President Ernest Cu said in a statement.
Regulatory Approval
Ray Espinosa, head of PLDT's regulatory affairs department, said the transaction doesn't need approval because rules that would govern it haven't been implemented yet.
The Philippine Competition Act President Benigno Aquino signed last year is due to release its implementing rules in June. The law's provisions are already fully in effect and the regulator will assess the deal, the commission said Monday in an e-mailed statement.
PLDT and Globe probably paid more than they otherwise would have for the assets in a move to close the transaction before regulations for such transactions are in place, PCCI's Lago said.
(A previous version of this story was corrected to show Ramon Ang is president of San Miguel.)
Before it's here, it's on the Bloomberg Terminal.
LEARN MORE