Automakers Rev Up Green Bonds for Hybrids and Electric Vehicles
by
Toyota's financial arm leads auto green bond issuance

China seen as next arena for green auto bonds after Geely
Investors expect more automakers to tap the green bond market after auto companies raised $2.5 billion in 2016 to finance electric and hybrid vehicles.
This month, the financial arm of Toyota Motor Corp. sold a $1.6 billion green bond to fund consumer purchases and leases of energy-efficient Toyota and Lexus vehicles. To meet demand, the bond was upsized from an earlier plan to sell $1.2 billion. Zhejiang Geely Holding Group, which manufactures London taxis, raised $400 million this month in a green bond sale to finance development of zero-emission black cabs in the U.K. The Chinese automaker's bond was close to six times oversubscribed.
More automakers are likely to come to market with green bonds, said Stephen Liberatore, a portfolio manager at TIAA. "It helps the automakers to create positive focus on what they are attempting to do, but also diversify their funding base," said Liberatore, whose TIAA-CREF Social Choice Bond Fund holds about $75 million of Toyota's green bonds. The firm didn't participate in the most recent deal because they viewed the pricing as "rich," compared to other AAA-rated asset-backed securities currently trading, he said.
Toyota's financing unit, which issued its first asset-backed green bond in March 2014, has raised $4.6 billion in three different issuances since then. Buyers of the debt have included asset managers, insurance companies, and pension funds, including California State Teachers' Retirement System.
As the biggest global seller of energy-efficient vehicles, Toyota uses proceeds from its green bonds "quickly" said Adam Stam, national manager of secured funding at Toyota Financial Services. The funding from the green bonds is invisible to consumers and dealers, but assigned on the back end to financing for eight vehicle models, such as Toyota's Prius and Camry Hybrid, and the CT 200h and ES 300h from Lexus, he said.
Hyundai Motor Co., which plans to launch 26 alternative fuel vehicles by 2020, also ventured into market in March when its financial arm issued $500 million in green bonds.
Toyota and Hyundai's green bonds, which fund consumer purchases, are similar to standard automotive asset-backed securities. The total automotive ABS market was about $191 billion in the first quarter, according to the Securities Industry and Financial Markets Association.
The new bonds come as the markets for both electric vehicles and green bonds are growing. About $46 billion of green bonds were issued in 2015, and that could rise to $56 billion this year, according to Bloomberg New Energy Finance. Global electric vehicle sales are projected to hit 41 million by 2040, representing 35 percent of new light duty vehicle sales, according to BNEF.
Chinese electrical vehicle companies are growing interested in green bonds, according to Sean Kidney, chief executive of the Climate Bonds Initiative. "China has a very active program of switching vehicles to electrical for both air pollution and climate change reasons," he said.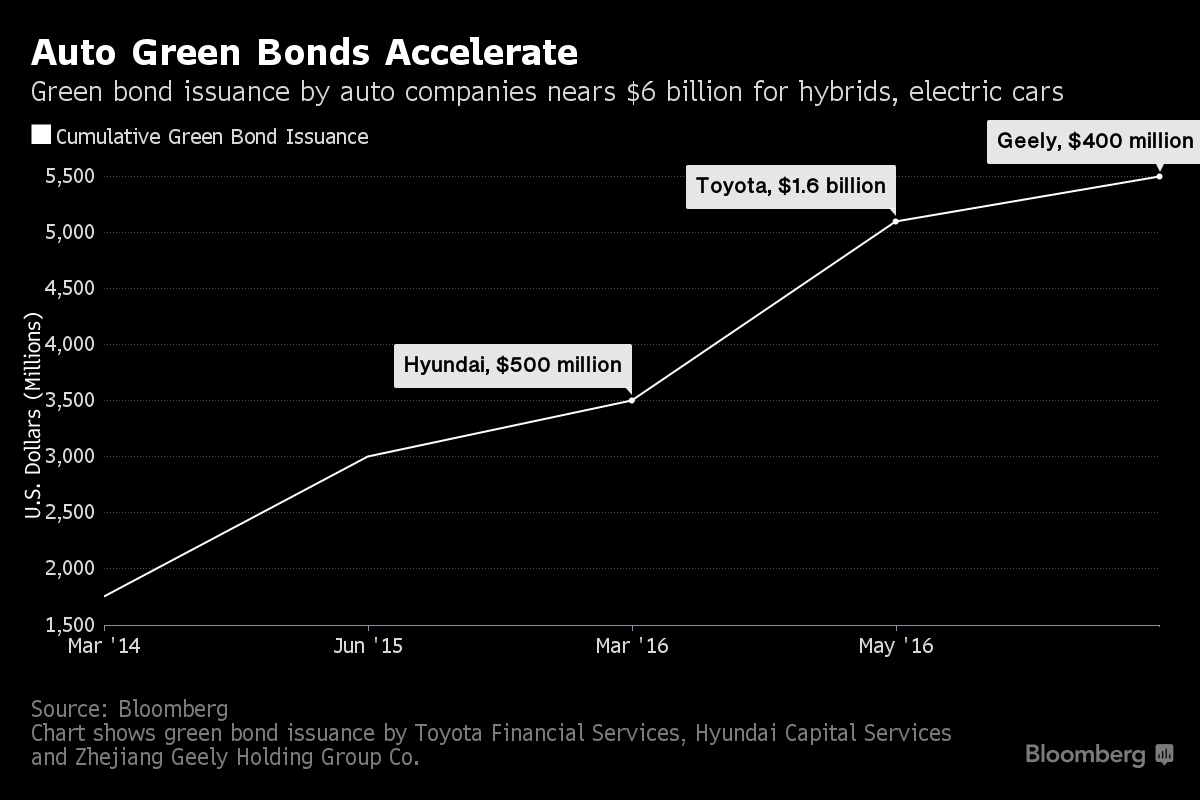 (This story was published in this week's edition of Bloomberg Brief: Sustainable Finance. For more information, visit NI SFBRIEF.)
For Related News:
Top Stories:TOP
Sustainable Finance Brief: NI SFBRIEF
BRIEF:BRIEF
Before it's here, it's on the Bloomberg Terminal.
LEARN MORE