Beijing Seeks to Legislate Car Quotas as It Mulls Congestion Fee
Bloomberg News
Congestion charge study may take a few years to complete

About half of electric car license plates issued weren't used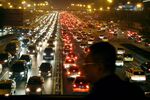 Beijing plans to pass legislation this year to incorporate current traffic measures such as a lottery system for car license plates and restricted days for vehicle use even as it considers implementing congestion-based charges to alleviate the capital's gridlock.
The city legislature has asked the municipal government for a detailed plan on the use of "economic measures" to reduce vehicular use, which may take a few years to draw up, according to Rong Jun, a spokesman and member of the Beijing Municipal Commission of Transport. Meanwhile, traffic-induced problems such as congestion, lack of parking spaces and pollution have become a "salient city management problem."
A successful implementation in Beijing of controls such as the type of congestion charges practiced in London or Singapore may lead to adoption in other municipalities, which have leeway in tailoring measures to suit local conditions. Imposing such fees on top of ownership restrictions may reduce demand in the world's largest auto market by raising the cost of operating a car.
A surge in vehicle ownership has placed increasing pressure on major cities like Beijing, where the number of autos rose by 17 percent over the past five years to 5.61 million units, approaching the ceiling of 6 million units set by the city authority for the year 2017.
The Beijing city government said on May 5 it will consider to start levying traffic congestion charges by 2020 as part of a package of measures to reform the vehicle quota system. The city began awarding new licenses through a lottery in 2011.
As part of the steps to promote electric cars, these vehicles were placed in a special category where the odds of winning a license plate are much higher than conventional autos. Even so, about half of the plates issued for EVs in Beijing in October were not used by the expiry date in April, according to the traffic commission.
The reasons for the low take-up include a lack of charging facilities, concerns over the life span of the batteries and the unattractive trade-in price of such cars, Rong said.
— With assistance by Tian Ying
Before it's here, it's on the Bloomberg Terminal.
LEARN MORE