Valley's Venture Capitalists Are Souring on Uber-Style Startups
by
Hurdles to profit are more onerous than originally advertised

Death of Homejoy cleaning service was Bear Stearns 'harbinger'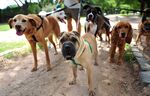 A startup calling itself the Uber for x, y or z merited at least a look from a venture-capital firm a few months ago. Now VCs are more likely to roll their eyes and say: "Come on, not another one."
Over the past five years, investors have poured billions of dollars into U.S. companies touting Uberesque services -- dog-walking, house-cleaning, waiting-in-line -- a sector known as the on-demand economy. Now they're losing patience because many of these firms are taking longer than expected to become profitable.
As a result, VCs are offering lower valuations than they did a year ago, scrutinizing the numbers more closely and less likely to inject fresh capital. As of Monday, 30 on-demand startups had received early-stage funding this year, according to CB Insights, compared with 61 in the first six months of last year.
With VCs clamoring for profits, on-demand startups must walk a fine line between alienating their customers by hiking prices and irritating investors by burning too much cash, says Tim Young, a general partner at Eniac Ventures.
"They've fallen out of favor with investors," he says, "which means they have to be very capital-efficient, so they're constantly facing the edge of the cliff."
Homejoy Implosion
Sentiment toward the on-demand economy began shifting with the mid-2015 implosion of Homejoy. Having raised a lofty $38 million two years earlier, the cleaning services company was under pressure to grow rapidly and, in a tactic typical of on-demand startups, offered margin-crushing discounts to lure customers. Bleeding money and unable to raise fresh funds, Homejoy died.
Since then, ride-sharing company Sidecar and the food-delivery service Spoonrocket have both shut down. Some companies including Zirx, which offers a valet-parking service, have pivoted and embraced new business models. Meanwhile, leading Valley incubator Y Combinator says fewer "Uber for X" startups are applying for spots, according to Jared Friedman, a partner there.
None of this is to say that the on-demand concept is going away. It has revolutionized how people behave. Shoppers have become accustomed to instant gratification with a few taps on a smartphone; workers seeking temporary gigs driving people around or picking up marijuana purchases have more control over their schedules. The best known startups -- Uber, Lyft, Doordash, Instacart -- have time and money to try and figure it out.
But the barriers to profitability are more onerous than originally advertised. Most on-demand companies tout algorithms that theoretically make labor-intensive tasks more efficient. For example, a company like Doordash says that by batching orders together it can increase the number of food deliveries per hour. Investors were told that on-demand companies would cut costs to the point that they could make money on each transaction.
It hasn't quite worked out that way. Unlike a typical software or app company, Doordash requires an army of workers to provide the product. Yes, such companies have managed to contract out the labor and pay no benefits. But many of their workers are short-timers who expect flexible schedules and are constantly looking for the next gig. As a result, Doordash must compete with other delivery and ride-sharing services for drivers -- a recipe for high recruitment and retention costs. With profitability still elusive, Doordash was forced to accept a lower price per share when it raised capital this year.
Legal Challenges
Many on-demand companies are disrupting entrenched industries -- inviting inevitable legal challenges and regulatory pushback. Uber is big enough to afford large legal bills, including a settlement with drivers in California and Massachusetts last month that could reach $100 million. Most on-demand startups don't have Uber's resources. Homejoy faced huge legal bills after cleaners filed lawsuits alleging they were misclassified as independent contractors. Potential liabilities were another factor in the company's decision to shut down, as well as investors' reticence to inject more capital.
The question is whether the change in sentiment could ruin the party for companies with a fighting chance of becoming profitable. Chariot, a two-year-old startup that provides crowd-sourced van service for San Francisco commuters, has recently struggled to raise cash, according to three people familiar with the situation. The company could easily have gotten funding a year ago because it's well-run and has good metrics, one of the people said.
Ali Vahabzadeh, Chariot's founder and chief executive officer, said his company isn't currently out fundraising but is instead focused on reaching profitability. The very week Homejoy went away, Vahabzadeh told his team they needed to start making money on existing routes as soon as possible. Chariot has since automated much of the business and says next month it will post positive gross margins. That means revenue will exceed what it costs to operate the service but exclude outlays for marketing and engineering (which for Chariot are relatively small because it has only 12 non-driver employees).
"Homejoy is our Bear Stearns," Vahabzadeh says. "It wasn't as cataclysmic to the broader economy, sure, but it looked and felt like the same sort of harbinger."
Before it's here, it's on the Bloomberg Terminal.
LEARN MORE