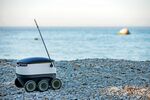 Form and function
The suitcase-size, 25-pound Starship robot travels on sidewalks at up to 4 miles per hour to deliver as much as 20 pounds of groceries and other goods to a customer's door.
 
Innovator: Ahti Heinla
Age: 44
Co-founder and chief executive officer of Starship Technologies, a 45-person London startup
 

1. Specs
The six-wheeled electric vehicle uses a 3G or 4G Internet connection and mapping software to find its way from a retailer to customers who've placed orders via an app or a website.
 
Origin: Heinla, who co-founded Skype, learned to code from his mother while growing up in Estonia. He brought together the engineering team for Starship in July 2014.
 
Early tests: Starship has tested its robots on sidewalks in 22 cities in the U.S. and Europe.
 

2. Deliveries
The retailer loads up the Starship or sends it to a hub for packing, and the ordering app provides the customer with a confirmation code to open the robot when it arrives. Removing the goods and closing the lid starts the robot's return trip.
 
Funding: Heinla and co-founder Janus Friis, a fellow Skype alum, have invested a combined $5 million in Starship.
 
Customers: Starship says it's targeting bakeries, groceries, couriers, and other businesses looking to deliver within a 10-square-mile area. (The robots can travel for more than two hours on a full charge.)
 
Next Steps
Driverless vehicles can make urban delivery more efficient, but large numbers of sidewalk robots pose their own problems, says Karl Ronn, managing director of consulting firm Innovation Portfolio Partners and former head of research and development at Procter & Gamble. Heinla says Starship is seeking additional funding while it further refines its robots for pilot programs in other cities.
Before it's here, it's on the Bloomberg Terminal.
LEARN MORE