JFK Was Last President to See Treasuries With Lower Term Premium
by and
Investors aren't demanding compensation to own long-term debt

Treasuries are alternative to negative yields around the world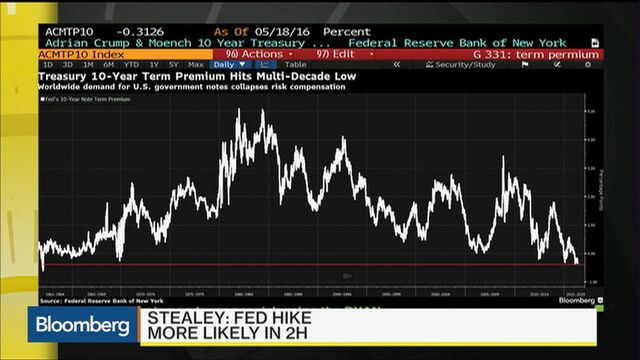 It takes a lot to rattle Treasuries traders these days.
Not since 1962, when John F. Kennedy was president and Bob Dylan released his first album, have they demanded less compensation to own a long-term U.S. government bond rather than a series of shorter ones. In fact, they don't demand anything at all. A Federal Reserve Bank of New York measure of the 10-year term premium, a product of the perceived riskiness of longer-dated securities, fell to negative 0.38 percentage point Tuesday. Many bond professionals view a level below zero as signaling the debt is theoretically overvalued.

Traders are piling into longer-term Treasuries with abandon as they flee more than $9 trillion of government bonds around the world with negative yields. At the same time, they see little risk of an unexpected jump in inflation or growth as central bankers and finance chiefs globally struggle to boost a flagging world economy.
"It's a confluence of effects for the collapse in the term premium, including globally that there's very little yield," said Aaron Kohli, a fixed-income strategist in New York for BMO Capital Markets, one of 23 primary dealers that trade with the Fed. "The market isn't really convinced the Fed can create the sorts of conditions where buyers in the long end would demand a risk premium. You really need to have some positive risks to growth and upside for inflation."
Annual Gain
Treasuries were little changed Friday, with the 10-year yield at 1.86 percent as of 7:02 a.m. in New York, according to Bloomberg Bond Trader data. The price of the 1.625 percent security due in May 2026 was 97 7/8. The Bloomberg U.S. Treasury Bond Index has risen 3 percent this year.
The yield on a long-term bond encompasses traders' expectations for the path ahead for short-term rates -- which is driven by the outlook for Fed policy, economic growth and inflation. Typically added to that is a term premium, or extra compensation given the risk that these projections may prove wrong or other unforeseen forces may sway rates over the life of the bond.
Below Zero
The New York Fed's term premium measure has been negative for most of 2016, after falling below zero for the first time in four decades in 2012. It peaked at over 5 percentage points in the early 1980s, more than triple its long-run average of 1.64 percentage points, according to New York Fed data going back to 1961.
The pace of economic growth is slow enough to push the term premium lower, said Yusuke Ito, the senior investor in Tokyo at Mizuho Asset Management, which oversees about $45 billion.
"People are too optimistic -- and we are not -- about the outlook of the U.S. economy," he said. "Monetary policy will remain accommodative for the time being. That will eventually put downward pressure, not only on the official term rate, but also on the longer-term yield as well."
Still, short-term Treasury yields surged Wednesday and the term premium jumped the most since March when minutes from April's Federal Open Market Committee meeting showed policy makers considered a rate increase next month likely if the economy keeps improving. Bond traders were caught flat-footed after having virtually ruled out the possibility of a June Fed move.
"As a global investor looking at long-dated U.S. Treasuries, you are looking at assets that are very cheap in an international context," said Mark Dowding, who manages about $60 billion as a partner at London-based BlueBay Asset Management LLP. Outside America, "nearly half of the market is trading at a yield of next to nothing, or below next to nothing. And economically speaking, I think interest rates are going to stay very low by historical standards."
Before it's here, it's on the Bloomberg Terminal.
LEARN MORE