ECB's Liikanen Sees Basic Math Signaling Inflation Over Goal
by
Finnish central-bank chief Liikanen a bellwether for ECB mood

Suggestion could heighten concerns in nations such as Germany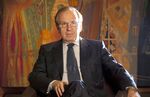 The European Central Bank is likely to exceed its inflation goal for a while after a long period of near-stagnant prices, Governing Council member Erkki Liikanen said.
"You can never have average inflation close to 2 percent if you are never above 2; it's arithmetic," Liikanen, the Bank of Finland governor, said in an interview in Helsinki on Friday. "We must be consistent in both ways. My approach is symmetric in both directions."
One of the Governing Council's longest-serving members, the 65-year-old Liikanen is seen as a centrist on the ECB's decision-making body and hence a bellwether for the direction of policy. His suggestion -- which has been debated by academics and brought up at least once in the council -- is likely to spark political resistance in nations hawkish on consumer prices and already critical of the central bank, such as Germany.

The ECB aims to keep medium-term inflation just under 2 percent, yet despite ever-growing monetary stimulus it has fallen short of that goal for more than three years. The rate was minus 0.2 percent last month and the central bank projects it'll only rise to an average of 1.6 percent in 2018.
When prices do recover, the question arises of when to start unwinding that stimulus. The concept of letting inflation exceed the goal for a while to make up lost ground is seen by some academics as particularly useful when interest rates are near the lower bound, as they are at the ECB.
"When we face a prolonged period of low inflation and deflation risk, we must have the same instinct as we would have when facing a prospect of exceeding our target," Liikanen said. "I'm a hawk in both directions."
The question of when to tighten could gain in prominence well before 2018 if oil prices continue their rebound, even though the ECB knows from experience the consequences of acting too hastily. In 2011, President Jean-Claude Trichet raised rates twice to curb oil-price-driven inflation -- on what turned out to be the eve of the euro area's sovereign-debt crisis and recession.
Liikanen was on the Governing Councils that took those decisions. After a career that started as a social-democrat member of Parliament in the early 1970s, he served as Finland's finance minister and a two-term European Union commissioner before becoming the central-bank head in 2004.
All Sectors
His interview with Bloomberg took place after a one-hour meeting with Finnish white-collar union leaders at a lake resort outside of Helsinki, where he fielded questions on topics as diverse as the U.S. elections, Russia and Nokia. It's important for central bankers to constantly listen to the questions and concerns from all sectors of society, he said.
At the same time, after weeks of mounting criticism of ECB policies by German politicians, including Finance Minister Wolfgang Schaeuble, he defended the right of the central bank to implement the measures it deems appropriate.
"If you question the independence of the ECB, we are all together," Liikanen said. "Our internal atmosphere is collegial. We all agree that the large scale asset-purchase program is a monetary policy measure that is within our mandate. That said, the members of the Governing Council can always disagree on the timing and the scale of the purchases, just as they can on rate hikes and cuts."
Liikanen signaled that one of the newest measures -- adding corporate bonds to the 1.7 trillion-euro ($1.9 trillion) quantitative-easing plan -- is partly intended to ensure QE can reach into all corners of the 19-nation euro area. Those purchases are scheduled to start before the end of this quarter.
Paranoid Survival
Corporate bonds "strengthen the pass-through of our monetary policy to the financing conditions of the corporates and enlarge the universe of the purchases," he said. "There are some countries that have no sovereign bonds at all, so corporate bonds are an asset class which helps to share the benefits of our monetary policy more broadly."
For the moment, Liikanen sees economic growth as "modest" yet broad-based.
Even so, there is no reason to be complacent. ECB Governing Council member Vitas Vasiliauskas said on Thursday stimulus should now come from "fiscal policies" as "monetary policies alone won't be enough" and "the economy needs a stronger impulse."
For Liikanen, inspiration can be found in the words of Intel co-founder Andy Grove.
"Grove used to say: 'Only the paranoid survive'," he said. "He meant: Never disregard possible disruption, you must carefully follow everything."
Before it's here, it's on the Bloomberg Terminal.
LEARN MORE