Bayer's Monsanto Bid Dismays Investors With Debt Concerns
by , , and
Shares of Bayer drop by most since March 2009 in Frankfurt

Size of takeover offer not disclosed by either company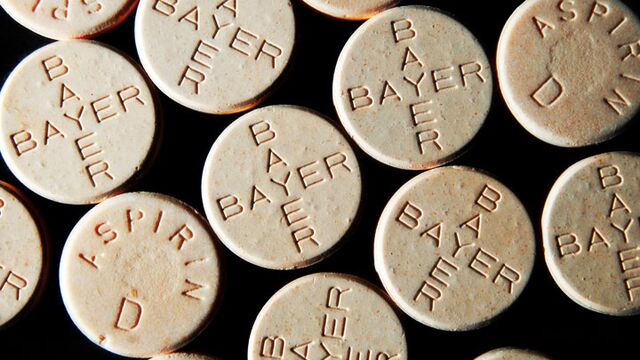 Bayer AG's unsolicited takeover offer for Monsanto Co. met with skepticism as concerns mounted that the German company would need to take on too much debt and dilute equity holdings in its quest to acquire an embattled target.
Shares of Bayer plunged by the most in seven years in Frankfurt after the drugmaker confirmed an offer to buy the world's largest seed producer, which has a market value of about $45 billion, for an undisclosed amount. Monsanto's stock also posted muted gains, rising less than 5 percent. Bloomberg News was first to report a week ago that Bayer was exploring a bid to become the world's biggest supplier of farm chemicals.
The proposal by Werner Baumann, who's been at Bayer's helm for less than a month, follows Monsanto's failed attempt to buy Syngenta and the proposed merger of Dow Chemical Co. and DuPont Co. St. Louis-based Monsanto said on Wednesday night that it's reviewing the offer, hours after its Chief Operating Officer Brett Begemann told Reuters "there's nothing there." Bayer is considering asset disposals and a share sale to finance the deal, according to people familiar with the matter.
"The acquisition is just one notch too big," said Markus Manns, who oversees about $250 million in assets at Union Investment GmbH, including Bayer shares, in Frankfurt. "It is unclear why, of all things, they would choose to do it now."

The German company is exploring the potential disposal of its animal-health business and the remaining 69 percent stake in plastics business Covestro AG, the people said, asking not to be identified because discussions are private. Animal health could fetch $5 billion to $6 billion, according to one of the people, and the Covestro holding is worth about 4.9 billion euros ($5.5 billion).
"This financially complex deal looks like bad news to us," Jean-Jacques Le Fur and Philippe Lanone, analysts at Natixis Securities, wrote in a note to clients, downgrading Bayer to neutral. "We find the deal unconvincing from a strategic angle."
Bayer, which may need to pay a 50 percent premium for Monsanto, could sell the U.S. company's crop protection unit for $19 billion to help fund the purchase, Jacob Thrane, an analyst at Baader Bank AG, said in a note to clients. It would still need to borrow another $21 billion, leading to a drop in its credit rating, he wrote.
Capping Price
The purchase would be break-even on the basis of earning per share only if Bayer capped the offer at $108-a-share, and raised $15 billion in debt and $27 billion from equity sales, Sanford C. Bernstein & Co. analysts  Jeremy Redenius, Ronny Gal and Jonas Oxgaard wrote in a note to clients on Thursday. But the company is likely to need to pay about $120-$125 a share to get the deal done, they said.
If Bayer buys Monsanto, it could be the biggest acquisition globally this year and the largest German deal ever, according to data compiled by Bloomberg. A takeover of Monsanto would require an enterprise value of as much as 65 billion euros, according to analysts at Citigroup Inc.
Monsanto's Litany of Woes Makes It Ripe for Bayer Takeover
Bayer fell 7.9 percent, the most since March 2009, to 88.60 euros in Frankfurt trading. The shares had dropped 17 percent this year, through Wednesday. Monsanto shares rose 3.5 percent to $100.55 in New York.
Monsanto was forced to confirm Bayer's takeover offer after Begemann told Reuters at a conference that reports on a potential Bayer takeover are "all wild speculation because there's nothing there." Bayer then in an e-mailed statement confirmed that it had recently met with Monsanto executives to "privately discuss a negotiated acquisition" of the seedmaker.
The chance of a transaction being completed is less than 25 percent, Jefferies LLC analyst Laurence Alexander wrote in a note to clients.
"Bayer doesn't seem to have the financial muscle to use a lot of cash at the moment for major deals" unless it's willing to let its credit rating slide, Michael Leuchten, an analyst at Barclays Plc, wrote in a note to clients. "So whilst the strategic rationale may or may not be there, we still wonder how a deal of this size could be structured to make it palatable."
Merging Monsanto with the company that invented aspirin would bring together brands such as Roundup, Monsanto's blockbuster herbicide, and Sivanto, a new Bayer insecticide. Bayer said the combination would bolster its position as a life sciences company.
Goat Sacrifice
Monsanto is particularly vulnerable to a takeover after piling up a mountain of problems this year. The company has cut its earnings forecast, clashed with some of the world's largest commodity-trading companies and become locked in disputes with the governments of Argentina and India. Shares are down 19 percent in the past 12 months.
"It's a relentless string of bad news," Bernstein's Oxgaard said. "It's almost like they forgot to sacrifice a goat to the gods."
A wave of deals is already reshaping the seed and crop-chemicals industry. China National Chemical Corp. agreed in February to acquire Switzerland's Syngenta AG for about $43 billion, months after Monsanto abandoned its own bid for Syngenta. DuPont and Dow plan to merge in a $65.6 billion deal and then carve out a new crop-science unit.
Record Deals
A completed acquisition would extend a record-setting pace of consolidation in the global chemicals sector, which has seen $84 billion of deals this year as low crop prices encourage mergers, according to data compiled by Bloomberg. With a premium, a takeover of Monsanto could surpass ChemChina's purchase of Syngenta as the largest acquisition globally this year, the data show. 
"Despite the ongoing consolidation in the agrochemicals market, we believe there is no need for Bayer to rush into a deal with Monsanto," Bankhaus Lampe KG analyst Volker Braun said in a research note. "We see enough opportunities arising from pending M&A transactions in the industry to buy assets at better prices and more favorable risk profiles."
Commodities Slump
Monsanto is facing a slump in agricultural commodities and its offer to buy Syngenta for about $46.2 billion was spurned last year. Sales in the quarter ending in February fell 13 percent from a year earlier to $4.53 billion. Prices for corn and soybeans declined in the last three calendar years, hurting demand for everything from tractors to weedkiller.
A deal with Bayer would help the company reduce its reliance on the agriculture industry, while Monsanto would strengthen Bayer's seed business, one of the company's priorities.
Morgan Stanley & Co. and Ducera Partners are Monsanto's financial advisers, and Wachtell, Lipton, Rosen & Katz is its legal adviser.
Monsanto was founded in 1901, its first product the artificial sweetener saccharin. It introduced one of its first genetically modified seeds in 1996, Roundup Ready soybean, spawning heated controversy with critics of biotechnology. Bayer's products range from blood thinner Xarelto to consumer products and pest-control treatments for farmers.
Bayer is transitioning to new leadership. Strategy head Baumann took over from Chief Executive Officer Marijn Dekkers this month. Dekkers has already reshaped Bayer, increasing its focus on life sciences by buying Merck & Co.'s over-the-counter medicines business and divesting a stake in its plastics unit.
Before it's here, it's on the Bloomberg Terminal.
LEARN MORE