Bank Stocks Are Having a Big Day
Bank profitability poised to increase.
by , , and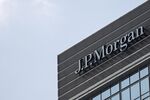 A shift in the yield curve is helping to fuel a big rally in bank stocks on Wednesday.
The KBW Bank Index, composed of national money center as well as regional banks, was up as much as 3 percent on the day as of 11:48 a.m. New York time, as longer-term U.S. Treasury yields rose by more than the yield on shorter-term debt.

The yield on 10-year U.S. Treasuries has increased by 3 basis points more than the yield on two-year Treasuries as of noon Eastern Time, the biggest one-day steepening of the 2s10s curve since May 2. On Tuesday, the spread between the 10-year and the two-year had shrunk to its lowest level since 2007.
All else equal, this steepening of the yield curve is positive for banks' net interest margins, and therefore profitability, as these institutions borrow short and lend long.
Wednesday marks the best intraday gain for the KBW index since April 13, with JPMorgan Chase & Co. gaining as much as 3.2 percent to break above its 200-day moving average.
"A bull steepener (steepener with lower rates) is more accretive to bank earnings than a bear steepener, but either is better than a flattening curve for bank margins, all else equal," writes Bespoke Investment Group Macro Strategist George Pearkes. "The market has basically decided that banks equal a leveraged steepener so when the curve flattens they've underperformed and vice versa."
On Tuesday, presumptive Republican presidential nominee Donald Trump also said he would "dismantle" the Dodd-Frank financial regulation law if he became president, an event that would presumably improve bank profitability.
Before it's here, it's on the Bloomberg Terminal.
LEARN MORE