Inside LendingClub's Shakeup: CEO Exit Said to Hang on Trust
by
Directors said to fault Laplanche for communication breakdown

'We failed to meet our high standards,' he says in statement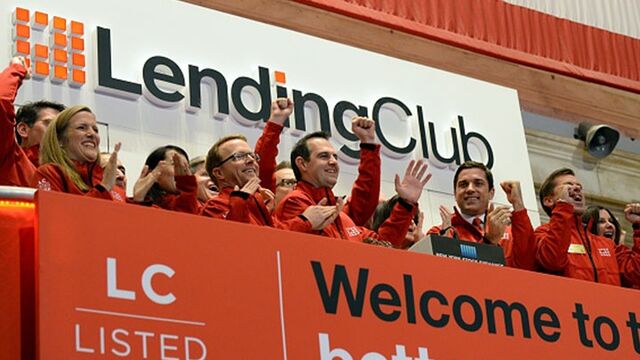 Repeated lapses. An alarmed board. And a CEO who didn't seem to fully reveal what he knew.
Days before LendingClub Corp. ousted founder and Chief Executive Officer Renaud Laplanche, board members thought they'd settle for stripping him of his chairman title over a few missteps, then move on. But as they pressed him for details about what happened and what he knew, frustrations mounted, according to people with knowledge of the talks.
Questions persisted over $3 million of misdated loans and Laplanche's perceived failure to disclose his interests in an outside fund before LendingClub invested $10 million of its money. Though relatively small-dollar issues, they spiraled into a breakdown of trust, said the people, who asked not to be identified discussing confidential matters.
On May 6, two directors called Laplanche to a meeting and presented the board's demand: Leave. His resignation was announced three days later, a Monday, setting off a chain reaction in markets.
The firm's public explanation for his departure -- citing an undisclosed investment, a bungled sale of loans and a pair of "material weaknesses" in internal controls -- raised so many questions that it has caused some investors to at least temporarily stop buying the debt it helps create. The company said Monday it's seeking new ways to fund loans, and that the U.S. Justice Department and Securities and Exchange Commission are investigating what happened. It didn't elaborate on those probes.
LendingClub, once a Wall Street darling, dropped 6.9 percent to $3.67 at 10:13 a.m. Tuesday in New York, after plunging 51 percent last week.
Communication Breakdown
Some analysts have said it didn't add up that Laplanche, who founded LendingClub and helped pioneer online consumer loans, would be asked to leave over such missteps. But people close to the firm describe broader consternation on the board over a perceived breakdown in communication with their chairman and CEO during those events, and at a particularly precarious time. The young industry is struggling to attract more funding and facing increased regulatory scrutiny.
"Trust with the board and the leadership is critical," said Michael Tarkan, an analyst at Compass Point Research & Trading, speaking generally. "Trust is a core part of their business, especially for a new industry like this."
LendingClub declined to comment on the board's deliberations.
In a statement responding to Bloomberg's query, Laplanche said: "I founded LendingClub on the fundamental values of trust, transparency and accountability. I have always believed that we could accept no compromise in any one of these. I recognize that events occurred on my watch where we failed to meet our high standards. While there are disagreements as to the characterization of facts, I accept that the board acted in good faith."
Internal Disagreements
Laplanche, 45, started LendingClub in 2006 and soon emerged as a leading voice for an increasingly popular method of consumer lending: using a website to match borrowers with investors willing to fund them. As the business rapidly grew, money managers, hedge funds and banks began snapping up more of the loans. At the end of 2014, LendingClub became the first in its industry to sell shares to the public.
That milestone solidified its reputation as an industry leader. Laplanche had already bolstered the image by building out a board of prominent venture-capital investors, ex-Morgan Stanley CEO John Mack and former U.S. Treasury Secretary Lawrence Summers.
But tensions simmered inside LendingClub in recent months as turbulence in capital markets prompted investors to pull back from buying Internet loans, according to a person familiar with the matter. As funding got tighter, Laplanche pushed for a strategy that would maintain growth, this person said. Other managers including now-acting CEO Scott Sanborn argued that the company should consider the potential impact on profit from concessions it was offering investors, the person said.
Laplanche began pursuing funding sources he had shunned. The CEO had long resisted having LendingClub's consumer debts bundled into securities. In recent months, the company reversed course, working with Goldman Sachs Group Inc. and Jefferies Group toward bond deals.
Online Lending Crunch Leaves Opening for Big Banks: Intelligence
Not long after that process began, things went wrong. An engineer changed dates on $3 million of loans in response to a request from Matt Wierman, a senior LendingClub vice president, one person said. The engineer later brought up the decision with Laplanche, this person said. Wierman has told colleagues he was misunderstood, the Wall Street Journal reported Monday in an article describing the events.
The debts were sold to Jefferies. An internal inquiry found $22 million of loans were purchased by the investment bank that didn't meet its criteria, the people said. LendingClub said last week it bought back those debts and sold them to another investor.
In the board's eyes, it was a serious lapse that prompted further questions, according to the people. The directors hired an outside law firm to investigate. Three LendingClub executives involved in loan sales, Jeff Bogan, Adelina Grozdanova and Wierman, have since left, though at least some resigned, according to one person. Bogan, Grozdanova and Wierman didn't respond to messages seeking comment.
Separately, the board was looking into another matter. Earlier this year, Laplanche asked directors on the risk committee to spend the company's money on a stake in Cirrix Capital, a fund that specialized in buying LendingClub's loans, according to the people. He ultimately wrote up the idea and got approval. But there was something he left out: He also had a personal stake in Cirrix.
On April 26, LendingClub disclosed his holding in its proxy. It also said that Mack, the former Morgan Stanley chief, held a personal stake in the fund. He remains on the board and hasn't been accused of any impropriety.
'Good Hands'
Andrew Hallowell, a managing director of Cirrix, didn't respond to messages seeking comment. The firm, which hasn't been accused of wrongdoing, has been a longtime buyer of LendingClub's loans, making it a potential source of funding if other sources ever temporarily dry up. Laplanche didn't stand to benefit personally from LendingClub's investment with Cirrix, one person said.
Still, directors focused on why the CEO's holding hadn't been disclosed in his pitch because of its potential to pose a conflict of interest, the people said. That further fueled concerns that he wasn't being forthcoming, the people said. One person with knowledge of the situation said the feeling on the board was less anger and more disappointment in a CEO they had respected.
"As difficult as it is to step away from the company and its people, LendingClub is in good hands," Laplanche said Monday in his statement. "I look forward to watching the team execute on our vision."
Before it's here, it's on the Bloomberg Terminal.
LEARN MORE