Boris Johnson Suffers 'Political Amnesia' Over Hitler, Tusk Says
by
London's ex-mayor likened EU to Nazi bid to dominate continent

EU's top official lambastes Johnson for 'dangerous blackout'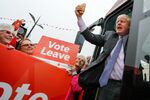 Boris Johnson embarrassed himself as a sufferer of "political amnesia" by comparing the European Union to Adolf Hitler's attempt to conquer the continent, the EU's top official said.
London's former mayor "crossed boundaries of rational discourse," EU President Donald Tusk told reporters in Copenhagen on Tuesday. He called Johnson's historical allusion a "dangerous blackout."
Johnson, a prominent figure in the campaign to take Britain out of the EU in the June 23 referendum, said over the weekend that failed efforts to control Europe by "Napoleon, Hitler, various people" show that European unity is doomed.
Tusk, a former prime minister of Poland, which was invaded by Nazi Germany at the start of World War II, defended the EU's clunky, consensus-based decision-making as the best way to deal with problems that defy national solutions.
"European countries would have to face the migration crisis, an aggressive Russia and economic uncertainty also without the EU," Tusk said. "The question is whether individual countries can better cope with the problems on their own. At least for me the answer is clear."
Before it's here, it's on the Bloomberg Terminal.
LEARN MORE