Watches
Buy a Rare Cartier Watch With Golden-Era Hollywood History
A diamond- and rock crystal-encrusted timepiece inspired by film legend Gloria Swanson is up for sale on an online vintage site.
by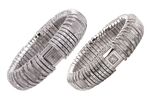 In the year 1930, actress Gloria Swanson bought a set of rock crystal and diamond bracelets from Cartier and wore them in films that marked two very different eras of her film career: Perfect Understanding and Sunset Boulevard. 

The first was filmed five years after she left her lucrative contract with Paramount Pictures and joined United Artists, the fledgling studio that was struggling in the new era of "talkies."
1933's Perfect Understanding, like most of her post-silent films, was not a success.
But fast-forward nearly two decades to 1950, when Billy Wilder cast Swanson in his breathtaking Sunset Boulevard, and the Cartier bracelets would play on-screen witness to her greatest triumph—a movie that would be taught in film classes for the rest of time.
Swanson played a version of herself, a melodramatic film queen well past her prime who is haunted by the ghosts of her glorious past. It was, and is, a sensation.

More than half a century later, Cartier would look back to these iconic bracelets for inspiration when creating a new watch, the "Declaration." Instead of multiple bracelets made of diamond and rock crystal, the jewelry house came up with a single loop bedecked with dozens of tinier rings. When parted, the crystal-encrusted rings would reveal a small quartz watch face—itself encrusted with pavé diamonds—and a one-carat diamond solitaire. 
Cartier debuted this watch in 2004, and you can buy a version from that year right now. The 18K white gold watch is in excellent condition, and a jeweler can add or subtract rings from the 8.25-inch circumference to help it fit your wrist. 
The Cartier "Declaration" Rock Crystal and Diamond Watch is available for $225,000 from Fourtané. 

Before it's here, it's on the Bloomberg Terminal.
LEARN MORE