South Africa's Gordhan Undeterred by Talk of Arrest, Beeld Says
By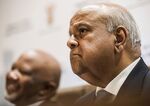 South African Finance Minister Pravin Gordhan is aware of plans to arrest him and won't be intimidated by a network that's trying to thwart his efforts to end government corruption, Beeld reported, citing five people in the National Treasury and the central bank.
The office of President Jacob Zuma on Sunday denied that the minister would be arrested or replaced, refuting a report in the Johannesburg-based Sunday Times newspaper that said a special police unit called the Hawks had sent to prosecutors the docket of its probe into Gordhan. The unit is investigating Gordhan and eight other former officials over their alleged involvement in a special agency set up within the national revenue service.
The Hawks are also targeting former Finance Minister Trevor Manuel, according to Beeld, which is also based in Johannesburg. Manuel told the newspaper he hasn't been contacted by the police unit and that South Africa's constitution enforces the rights of individuals that the Hawks must abide by. Gordhan considers the threats of his arrest as legitimate, it said.
Zuma's office issued two statements within hours of each other on Sunday. "The story is the work of dangerous information peddlers who wish to cause confusion and mayhem in the country," presidency spokesman Bongani Ngqulunga said in one of the e-mailed statements.
Phumza Macanda, a spokeswoman for National Treasury, didn't answer a call to her mobile phone and didn't immediately respond to a text message seeking comment.