Duterte to Offer Cabinet Posts to Philippine Communist Rebels
by
Concession part of efforts to revive stalled peace talks

Political prisoners may be released to build confidence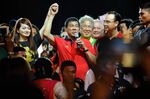 Rodrigo Duterte, the presumptive Philippine president, will offer a Cabinet position to the exiled founder of the Communist Party of the Philippines, Jose Maria Sison, who led an armed rebellion against the state.
As Duterte seeks to build confidence in his presidency before his swearing in on June 30, he said the posts of Labor, Environment, Agrarian Reform and Social Welfare Departments will be offered to the Communist Party, which has been fighting a guerrilla war since its founding in the late 1960s. "Those are the only departments that I can concede to them," Duterte said at a televised briefing from Davao City on Monday.
Duterte's olive-branch to the rebels will form part of the incoming administration's efforts to revive talks to end the five-decade insurgency that has killed about 40,000 people, and that stalled during the term of outgoing president Benigno Aquino. Sison left the Philippines and settled in the Netherlands after former President Corazon Aquino -- Benigno's mother -- released him from prison in 1986 shortly after a popular uprising toppled the late dictator Ferdinand Marcos.
Earlier on Monday, Duterte told reporters Sison and Luis Jalandoni, chief negotiator of the National Democratic Front of the Philippines, a coalition of left-wing political organizations, would both play key roles in the peace talks. Duterte has also announced plans to release all political prisoners as part of his efforts to build goodwill.
There were about 3,200 fighters of the New People's Army -- the armed wing of the Communist Party -- at the end of 2014, the Philippine Star has reported, citing military data. Members, whose number peaked at about 26,000 in the late 1980s, raise revenue by taxing companies in areas where they operate, often setting fire to facilities owned by the ones that refuse to pay. The rebels also sporadically attack military and police outposts, mostly in the countryside.
In February, three soldiers died in separate clashes with communist rebels in Compostela Valley province in Mindanao, while seven Philippine marines were injured by an improvised explosive device set off by the Maoist group in Sulu province, the military has said. In October, the insurgents burned heavy equipment owned by Nickel Asia Corp. in Isabela province, north of Manila the capital, the army said.
Before it's here, it's on the Bloomberg Terminal.
LEARN MORE