Saudi Arabia Gets a New Oil Czar
Khalid al-Falih, ex-CEO of Saudi Aramco, becomes the oil minister.
By , , and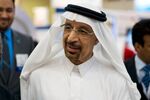 Saudi Arabia's new oil minister, Khalid al-Falih, landed his job on May 7 in a major housecleaning by King Salman and his son Deputy Crown Prince Mohammed bin Salman. Al-Falih, who's also chairman of the board of directors at state producer Saudi Aramco (a job he'll hold on to), says he'll maintain the policies of his predecessor, Ali al-Naimi, who is in his 80s. "If the market considers the appointment as signaling more of the same for Saudi policy, that could allow prices to continue following their gradual trend upward," says Edward Bell, a commodity analyst at Dubai bank Emirates NBD.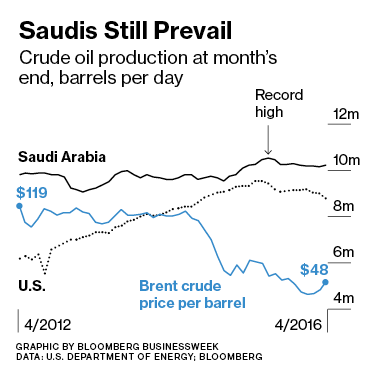 Saudi Aramco stands ready to meet demand from customers this year as global consumption rises by 1.2 million barrels a day, Chief Executive Officer Amin Nasser told reporters at company headquarters on May 10. Nasser succeeded al-Falih last May. OPEC's Saudi-led production increase will probably force 700,000 barrels a day of high-cost, non-OPEC crude off the market in 2016, mainly U.S. shale oil and Canadian oil produced from tar sands, says the Paris-based International Energy Agency. Saudi policy has helped send prices more than 60 percent higher since January, to above $45 recently.
Al-Falih was drafted to head the health ministry last year. The ministry was in need of restructuring. Yet on trips to the U.S. and the World Economic Forum in Davos, Switzerland, al-Falih was asked to expound more on stability in the oil markets than on improving domestic medical services. Tawfiq al-Rabiah, former commerce and industry minister, replaced al-Falih as health minister.
Educated as an engineer at Texas A&M, al-Falih joined Aramco in 1979, where he mapped out the company's strategy for expanding the natural gas supply, which was needed for power generation and industrial expansion. As CEO, a job he assumed in 2009, he presided over Aramco's push into petrochemicals. People who have worked with al-Falih say he's hands-on, with a sharp grasp of operational and strategic details.
He will probably preside over the announced Saudi Aramco initial public offering. The IPO is essential to the deputy crown prince's plan to build up the financial resources needed to wean the country off oil eventually.
Defending Saudi oil policy means al-Falih will face opposition when he represents his country for the first time at the OPEC meeting on June 2. The Iranians refused to honor a production freeze that Saudi Arabia and Russia proposed, and the Venezuelans are in such poor financial shape they need a price of almost $100 a barrel to stabilize their economy.
With the Iranians intent on producing flat out, Saudi Arabia can't afford to hang back. Al-Falih won't bend to the desire of OPEC members such as Venezuela, Ecuador, and Algeria to cap output in a bid to raise prices much higher, says Ed Morse, Citigroup's global head of commodities research. Saudi Arabia, he says, will "look at the national interest in producing to gain markets and market share."
Al-Falih's full title is minister of energy, industry, and mineral resources. He'll have to analyze proposals to break up the national power utility to bring in more private companies and boost competition, an issue al-Naimi didn't have to deal with.
 
—With Javier Blas and Deema Almashabi
The bottom line: Khalid al-Falih, Saudi Arabia's new oil minister, pledges oil production will stay high, as the kingdom expands market share.
Before it's here, it's on the Bloomberg Terminal.
LEARN MORE