Philippines' Duterte Vows to Continue Aquino's Economic Policies
by and
President-elect to follow Davao model to enhance competition

Wants to change constitution to ease foreign ownership limits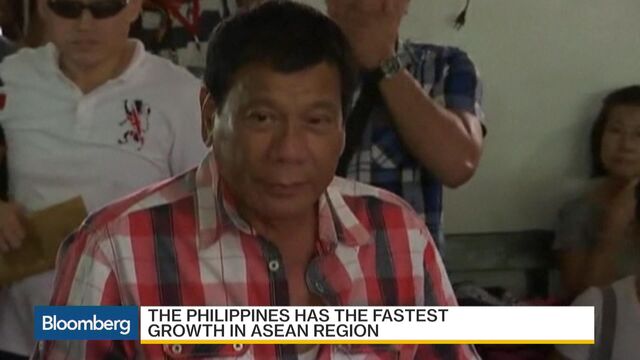 Presumptive Philippine President Rodrigo Duterte will continue the macroeconomic policies of the outgoing administration of Benigno Aquino, according to an eight-point economic agenda released on Thursday that also prioritized tax reform, education and infrastructure spending, and fighting corruption.
"We will continue and maintain the current macroeconomic policies," said Carlos Dominguez, Duterte's campaign finance manager and a key part of the incoming president's transition team. At a televised briefing from Davao City, Dominguez, who is favored to become finance secretary, said the new government would "enhance competitiveness and follow the Davao City model that Duterte instituted."
The briefing by Dominguez appeared aimed at investors nervous that the brash Duterte would undo Aquino's market friendly economic agenda that has helped drive economic growth above 6 percent over the last six years.
Dominguez said the new administration would index income tax and social welfare payments to inflation to benefit low income earners, and provide more welfare assistance to poor people who live in rural areas. He said the Duterte administration would go after smugglers as part of its anti-corruption drive.
Duterte's government would also push for changes to the 1987 constitution to make it "more rational" and review foreign ownership limits in certain industries to make the Philippines more attractive to overseas investors, Dominguez said.
When asked how the government can hit the 6.8 percent to 7.8 percent growth target set by Aquino this year, Dominguez said: "I can't say we have sat down and figured out what the target growth rate is." "We are experiencing a very severe El Nino. I don't know how that's going to affect the agriculture growth rate but it will be very hard."
The government will address bottlenecks in Public-Private Partnership projects and set spending on infrastructure at 5 percent of the gross domestic product, Dominguez said. Duterte will also strengthen the basic education system and provide more college scholarships, he said.
Before it's here, it's on the Bloomberg Terminal.
LEARN MORE