Opioid Abuse Bill Passes U.S. House Without Funds Attached
By
Heroin, prescription opioids cause record number of deaths

Election-year jolt sought in states including Ohio, Wisconsin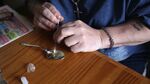 The U.S. House passed legislation aimed at curbing opioid addiction in a bid for a rare bipartisan agreement in Congress that also may aid the campaigns of vulnerable Republicans from states hard hit by the crisis.
The proposal is only a start, though. The measure passed 413-5 Thursday would authorize $103 million a year in grants from fiscal 2017 through 2021 to help states pay for the prevention and treatment of addiction to heroin and prescription opiates. The bill, H.R. 5046, wouldn't actually provide the money.
The House also voted 412-4 Wednesday to pass H.R. 4641, which would require the Health and Human Services Department to create an inter-agency task force to review and change "best practices" for pain management and prescribing pain medicines. Those and other measures will be packaged together for negotiations with the Senate, which passed its own plan, S. 524, in March.
President Barack Obama's administration said this week that until Congress provides money, the House bills "would do little to help the thousands of Americans struggling with addiction." The administration in February requested $1.1 billion in new funding to address the opioid crisis.
Democratic House and Senate leaders say they'll press for a strong level of spending to back up the ideas in the bills, although they didn't hold up a compromise on this week's policy measures.
More than 28,000 Americans died in 2014 from overdoses of opioids, including prescription painkillers and heroin, the highest level ever, according to the Centers for Disease Control and Prevention. At least half of all opioid overdose deaths involved a prescription drug, according to the organization. The administration said that 259 million prescriptions for opioids were written in 2012, more than enough to give every adult a bottle of pills.
"These trends will not change by simply authorizing new grant programs, studies and reports," the Obama administration said in its statement.
Political Dimension
The issue has taken on a political dimension because abuse is spiking in several states expected to be key in the battle for the presidency and control of the Senate, including Ohio, New Hampshire, Pennsylvania, and Wisconsin.
Fred Upton, chairman of the House Energy and Commerce Committee, whose panel considered some of the measures, said he doesn't anticipate many snags when both chambers begin work on a compromise.
"I expect the discussions will start almost right away," said Upton, a Michigan Republican. "I'm very optimistic and encouraged that it will go very quickly. I expect we'll have a good agreement that is clearly bipartisan that can sail through with a lot of ease."
The second-ranking Senate Democrat, Dick Durbin of Illinois, said, "I think it's going to be a fairly easy conference, if it is funded." He added, "We can all agree on the basics. But we have to fund it so we can deal with the challenges we face. That has to be a big part of it."
Emergency Spending
Democrats want Congress to pass emergency spending to address opioid abuse, the spread of the mosquito-borne Zika virus, and the water crisis in Flint, Michigan. Emergency funds don't have to be paid for with tax increases or cuts in other spending. Many Republicans instead want to finance the programs through regular spending measures.
Some vulnerable Republicans in Congress come from states or districts where the opioid epidemic is most prevalent. New Hampshire Representative Frank Guinta, whose re-election race is rated a tossup by the Cook Political Report, started a bipartisan task force on the epidemic and is taking a visible role in this week's floor debate.
Vulnerable Republican senators grabbing onto the issue include Kelly Ayotte of New Hampshire, Rob Portman of Ohio, Pat Toomey of Pennsylvania, and Ron Johnson of Wisconsin. All have held home-state events on opioid abuse, with Ayotte sponsoring a series of roundtable discussions. Portman spoke at an opiate conference in Columbus, and co-hosted a Senate Homeland Security Committee hearing in Cleveland to discuss the impact of the crisis on northeastern Ohio.
Portman highlighted his efforts in an editorial in the Cincinnati Enquirer on May 10: "I'm hopeful that we can reach an agreement with the House soon -– but that agreement must be comprehensive," he wrote. "Once we do that, then we can begin to turn the tide in the fight against this national epidemic."
Similar Approaches
The House and Senate are taking broadly similar approaches to address the crisis. Both seek to create inter-agency task forces and offer federal grants for treatment and prevention. Both would expand the availability of naloxone and other emergency treatments to reverse overdoses, and provide help for pregnant women.
Differences in the two versions including the approach to funding authorizations for individual programs: the House would provide opioid abuse treatment programs for veterans, the Senate plan wouldn't.
The Senate bill would authorize $62 million a year from fiscal 2016 through 2020 for programs including community-based grants, first responder training, enforcement task forces, medication-assisted treatment, youth and community recovery programs, and prisoner education.