Sanders' Dilemma: Go for Broke or Go for Influence
Having all but lost the Democratic race, how hard does he go after Hillary Clinton, and at what cost to the party and to himself?
By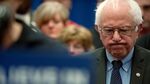 The cruel irony of Bernie Sanders' recent victories in West Virginia and Indiana is that they further narrowed his path to the nomination.
Win or lose, Hillary Clinton continues to collect delegates in primaries and has built up enough of a lead that she needs a mere 14 percent of those remaining to clinch the Democratic presidential nomination, according to an Associated Press count. The Vermont insurgent needs 86 percent.
In other words, he needs a miracle.

The real endgame for Sanders—according to hints offered by the candidate, his campaign and his allies—is to use his base of enthusiastic supporters as leverage to prevent Clinton from shifting to the center in the general election. He also wants to reshape the Democratic Party platform to promote his signature items like government-run health insurance, breaking up the big banks, and tuition-free public college, and alter the rules for nomination contests to allow more open primaries.
But Sanders has a dilemma as he vows to fight for every last vote and delegate and soldier on to the Democratic convention in July. How hard should he fight? How pointedly should he attack Clinton? Should he continue to paint the likely nominee as a corrupt establishment figure beholden corporate financiers, or tone down his rhetoric for the sake of party unity?
While a variety of Clinton backers praise Sanders for elevating issues like income inequality and the minimum wage, they warn that keeping up attacks on the front-runner will hurt the party and backfire on him.
"Most people on our side of the political spectrum would like to win the presidency. Anything he does to make it more difficult for Hillary to win will undercut him, because it'll make it look like it's about him and not the country," said Howard Dean, the former Vermont governor, presidential candidate and Democratic National Committee chairman. "It's very important that he focuses on the reforms and not on making personal remarks about our nominee."
"The way to get Hillary to cooperate is to be cooperative and not to attack her personally," Dean said.
Steve Schale, who managed Barack Obama's 2008 primary campaign in Florida, said Sanders has every right to stay in the race but ought to tone down his attacks, as Clinton did at about this point in the last Democratic nomination fight.
"He could win by losing if he chooses the right tack," Schale said. "If he plays his cards right—help Hillary, help define Trump—he'll go back to the Senate as an exceptionally powerful man with a movement. If he's seen playing sore loser and constantly driving a knife into an opponent he's not going to beat, he could go to the Senate as a pariah who really hurt the party's chances."
At rallies this week in Sacramento, California, and in Salem, Oregon, Sanders showed no signs of letting up on Clinton. He continued to launch barbs over her vote to authorize the Iraq war and her ties to Wall Street donors and wealthy campaign financiers. On Wednesday, he showed little patience when pressed in an interview by MSNBC's Andrea Mitchell if his continued presence in the race hurts Clinton and helps presumptive Republican nominee Donald Trump.
"Last I heard Hillary Clinton is running for president of the United States. I am running for president of the United States," Sanders said. "In every state that we have won, in 19 states, we have had to take on the entire Democratic establishment. We have had to take on senators and governors and mayors and members of Congress. That's what we have taken on. So please do not moan to me about Hillary Clinton's problems."
Trump has been gleeful about Sanders' attacks on Clinton, tweeting on Wednesday, "I don't want to hit Crazy Bernie Sanders too hard yet because I love watching what he is doing to Crooked Hillary." On Friday he tweeted, "As Bernie Sanders says, she has bad judgement."
The Sanders Retort
Sanders supporters scoff at the notion that he's hurting Clinton, pointing out that the fierce 2008 battle between Obama and Clinton led to a landslide election victory for Democrats. Obama lost five of the last eight contests against Clinton. They recognize Sanders probably won't win, but believe his presence will hold Clinton's feet to the fire on progressive ideas and make it harder for her to shift to the center.
"It's going to be critical for Hillary to get the political revolution to support her," said Charles Chamberlain, who leads the pro-Sanders group Democracy for America. "The key thing is to not back down on the many things she's adapted from Bernie's message," he said, mentioning a $15 federal minimum wage, debt-free college, rejecting the Trans-Pacific Partnership, and expanding Social Security. "They can try to rush to some kind of mythical middle that doesn't really exist but is typical for establishment Democrats."
Chamberlain concedes that Sanders' "path to winning is very, very thin." But he says Clinton has to earn the votes of Sanders' supporters by sticking to progressive ideas she has adopted from his platform.
"It's absolutely vital that Hillary Clinton continue to embrace that message if she wants to see those people vote for her in November," he said. "It's going to be very important for both Hillary and the establishment to tone down the condescension of Bernie Sanders supporters. They're going to need to bring the political revolution into the Democratic Party."
Clinton, for her part, has tread carefully around Sanders in an effort to avoid alienating his voters. But mostly she is pivoting to the general election. At campaign events this week in Virginia, Kentucky, and New Jersey, Clinton all but ignored Sanders and focused her fire on Trump. On Sunday she welcomed Sanders and his supporters into her tent.
"I want to unify the party. I see a great role and opportunity for him and his supporters to be part of that unified party," Clinton said on CBS' Face the Nation. "To move into not just November to win the election against Donald Trump, but then to govern based on the progressive goals that he and I share."
What Bernie Wants
Sanders and his top aides have suggested what they want. After being routed in five of six Northeastern states in April, the Vermont senator released a statement saying he'd fight to the end and go to the Philadelphia convention "with as many delegates as possible to fight for a progressive party platform'' on wages, trade, health care, financial regulation, free  public college and climate change.

Sanders has also called for more "open primaries" in which registered independents—who've been a strong source of support for him—can vote alongside registered Democrats. 
His campaign manager, Jeff Weaver, last week warned if that if Clinton tilts to the center in a general election Sanders voters won't show up to support her.
"The secretary has obviously moved to the left of this campaign substantially in an attempt to block out Senator Sanders," Weaver said on Bloomberg's Masters in Politics podcast. "But as too often happens, one worries that when the primary is over that candidate becomes much more centrist in a general election. If that happens, I think you will see a lot of Sanders supporters just sit home, frankly."