Runaway Valuation Risk No Barrier to Megacap Stock Obsession
by
P/S ratios of biggest stocks at 13-year high vs. small caps

Sales growth in big caps has slowed in 7 of 10 industries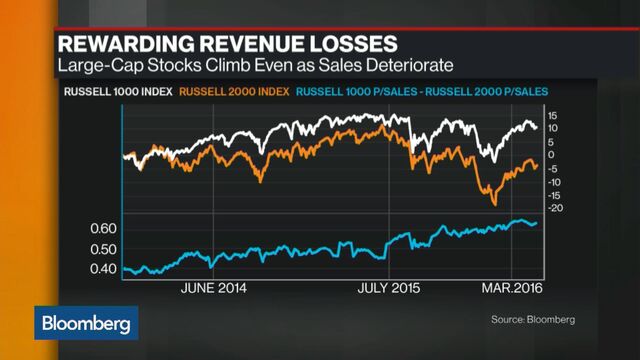 A rift is emerging in the U.S. stock market between companies whose sales are expanding and those whose aren't. So far, investors prefer the latter.
Revenue at the biggest U.S. companies is in retreat even as prices hover near all-time highs, making large-cap shares the most expensive in more than a decade, measured against sales. The Russell 1000 Index, which tracks the largest stocks by market value, trades for 1.8 times sales, compared with a ratio of 1.2 in the Russell 2000 Index of small-caps, the widest gap since 2003.
To equity market bears, the divergence bolsters a case that the seven-year old bull market is being driven not by improving economics or the strength of the U.S. consumer, but by central bank stimulus and rampant cost-cutting by executives.

"It's the opposite of what it should be," JonesTrading Institutional Services LLC chief market strategist Michael O'Rourke said in an interview. "You'd think anything growing organically should get a higher multiple but instead of looking at specific stocks, people are just buying equities as an asset class, which is driven by large-caps."
To be sure, valuations measured by revenue paint a more extreme picture than those tied to earnings. The S&P 500 trades at a price-sales ratio of 1.87, about 20 percent below the peak in 2000, data compiled by Bloomberg and S&P show. At the same time, the index's price-earnings ratio of 19.4 is about 35 percent lower than the highest level of the dot-com bubble, data show.
Price-to-sales ratios of large-cap companies began to take off in the first quarter of 2014, as the Russell 1000 index began beating its small-cap counterpart for the first time since the start of the bull market. The gauge has climbed 10 percent since then, compared with a 3.8 percent loss in the Russell 2000.

Over that two-year stretch, sales at big companies have slowed in seven of 10 industries, according to data compiled by Bloomberg. Russell 1000 revenue peaked at $3.1 trillion in the fourth quarter of 2014 and has slowed year-over-year in each quarter since. The large-cap index and the small-caps gauge lost 0.3 percent at 9:47 a.m. on Wednesday.
The decline in sales growth hasn't been as severe for members of the Russell 2000. While the pace of revenue growth in small-caps peaked in 2014, sales have still risen in each quarter since. With the exception of telecommunication companies, sales growth in small companies has been stronger than those for large-caps in every industry of the stock market.
One reason larger stocks have risen recently is due to their ubiquity in exchange-traded funds that make them easier to purchase for buyers looking to invest large sums of money in U.S. stocks, according to Jonathan Golub, chief U.S. market strategist at RBC Capital Markets LLC.
"If you're a global allocator or sovereign wealth fund and you want to move capital to the U.S. because the dollar's going to strengthen, you want do it in the most liquid names, because that's where it's easiest not to move the stock," New York-based Golub said by phone. "Even if small-caps have better fundamentals, small-caps will always lose out in that environment."
Part of the valuation gap is also a result of the greater impact oil prices have on the large-cap universe: energy companies make up 6.8 percent of the Russell 1000, compared with 2.4 percent in the Russell 2000. Since 2014, year-over-year revenue at big energy companies has fallen an average 18 percent each quarter, compared with 2.7 percent for the small-cap ones.
Examples of sales discrepancies between large and small companies extend beyond energy. Take industrial and utilities companies, for example -- quarterly year-over-year sales growth has averaged 0.5 percent and 1.1 percent in Russell 1000 stocks, compared with 7 percent and 18 percent, respectively, in the Russell 2000.
For investors in small-cap stocks like William Blair Investment Management LLC's Mike Balkin, the lagging sales valuations add to a bullish case that's based in part on smaller companies deriving more revenue from the domestic economy.
History may be on their side: last time the Russell 2000's price-to-sales level was this much lower than the Russell 1000's was in July 2003. In the next 12 months, the small-cap index gained 15 percentage points more than its larger-cap counterpart. In three years, it had rallied more by 28 percentage points.
"A lot of this stems from asset allocation and passive movement with people getting involved in ETFs with large caps," Balkin, said by telephone from Chicago. "Part of it is also habit. It's a flight to liquidity and in many people's minds, bigger equates to safer."
Before it's here, it's on the Bloomberg Terminal.
LEARN MORE