In Trump-Ryan Standoff, Republicans See No Quick Resolution
By and
House speaker set to meet presumptive nominee on Thursday

Some Republicans want Ryan to cave, others appreciate cover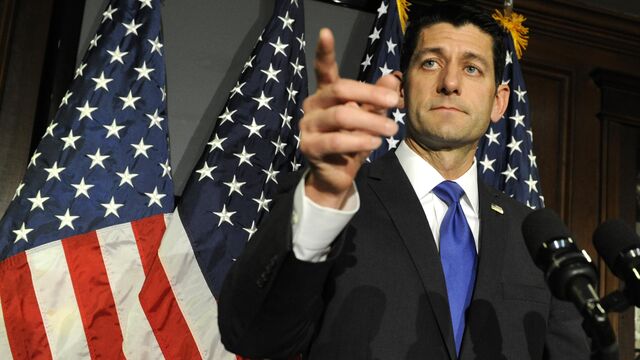 U.S. House Speaker Paul Ryan came under pressure Wednesday from a few Republicans to endorse Donald Trump to bolster party unity, but most say any reconciliation will probably take some time. 
Ryan, who is scheduled to meet with the presumptive Republican presidential nominee on Thursday morning, is finding plenty of support from other lawmakers who said they share the speaker's goal of binding Trump to conservative policy stances.
With Ryan downplaying the odds of a breakthrough with Trump on Thursday, Republicans appear resigned to a chaotic period where the caucus tries to feel its way toward an accommodation with the party's iconoclastic nominee. This leaves the speaker getting pulled in multiple directions.
QuickTake Speaker of the House
Representative Raul Labrador of Idaho, a member of the ultra-conservative House Freedom Caucus, said Ryan made a mistake by withholding his endorsement. 
"He needs to find a way to bring the party together. He's the leader of the party right now and you have a presumptive nominee. They have to work together," Labrador said Wednesday after a Republican caucus meeting. "You don't have to agree with Trump on everything. I sure don't."
But Peter King, a New York Republican, said that even behind closed doors, Republicans weren't putting Ryan on the defensive.
"He didn't take any heat at all," King said. "By doing that, Paul showed that there are real questions. He brought it out."
'Just Getting Started'
Ryan is making it clear that Thursday's highly anticipated meetings won't likely yield any actual endorsement of Trump. "We've got a process we're just getting started," Ryan told reporters Wednesday, adding that this process of unification "will take some work."
For his part, Trump offered a softer, more conciliatory tone toward Ryan Wednesday, a break from earlier this week when he had suggested that Ryan might not be fit to serve as chairman of the Republican National Convention in July. Trump has since said he would like Ryan to do so.
"I think I'm doing very fine with Paul Ryan. I have a lot of respect for Paul Ryan," Trump said on Fox News Channel. "We're going to have a meeting tomorrow. We'll see what happens. If we make a deal, that will be great. And if we don't, we will trudge forward like I've been doing and winning, you know, all the time."
This all adds to a big build-up to Thursday's meetings across the street from the Capitol at Republican National Committee headquarters. The first session will include Trump, RNC Chairman Reince Priebus and Ryan. A second meeting will include Trump, Ryan, House Majority Leader Kevin McCarthy, Majority Whip Steve Scalise, Conference Chairwoman Cathy McMorris Rodgers, and Deputy Whip Patrick McHenry. McCarthy and Scalise have already lined up behind Trump. Trump is also to meet with Senate Republican leaders later in the day.
Ryan's Strategy
In public, Ryan continues to underscore that he has a responsibility to get House Republicans re-elected, which he says requires setting and enunciating clear policy positions during a national campaign. But the rhetoric and demeanor of Trump's campaign so far, and some of his policy positions and shifts, leave some in his party worried about what he really stands for, and concerned that the presumptive nominee could hurt their party.
Ryan is also thought to be making calculations about his own political future, perhaps contemplating his own presidential bid in 2020.
Pressed by reporters, Ryan has refused to publicly discuss which specific policies he will bring up with Trump, or what, exactly, he might ask of him or want to hear. During Wednesday's meeting, some of his colleagues said they hoped the two men would come together quickly, though.
Representative David Brat, a Virginia Republican known nationally as having defeated former House Majority Leader Eric Cantor in a primary in 2014, said he thinks that Trump and Ryan need to agree tomorrow that they will write a new "Contract with America" that could unite the party against likely Democratic nominee Hillary Clinton.
Brat added that while Trump may have taken some positions in the primary, he has some flexibility to lay out where he stands. "He hasn't put them down on paper yet either," he said. "Let's cut the ambiguity."
Mixed Reception
On the Senate side, several senators, including James Inhofe of Oklahoma, said that Ryan's move is not helping.
"I didn't really appreciate his comments. I think at that time, that you know, he's the nominee, he's going to be working together, and they have to establish a workable relationship, and I think they will, but that's not a good way to start," he said Tuesday.
Other senators, however, see Ryan as simply trying to help unite the party. And many House Republicans -- including Representative Charlie Dent of Pennsylvania, a co-chairman of a group of House centrists -- say they they're not ready to back Trump yet, either.
"Given the very few policy statements we've seen from Trump so far, and the contrary ones, and the David Duke debacle, they raise a lot of concerns," said Dent. "My point is that think the speaker struck the right tone the other day in his caution."
Long Process
Whatever happens after Thursday's meetings, most other members echoed Representative Steve King of Iowa in saying they don't think a resolution between Ryan and Trump can happen in a day. "I don't think you can just simply flip a toggle switch," said King, who had been a backer of Senator Ted Cruz of Texas for president.
King was among others at the meeting who suggested Trump needed to meet or otherwise reach out to all House Republicans, not just Ryan.
"I think the most important thing that Trump could do is give a nationwide major policy speech that is an outreach to the conservatives. Similar to what Mitt Romney did four years ago in New Orleans where he talked about faith, morality and the Constitution," said King. "It's important for Donald Trump to look a camera in the eye, level with us and do the outreach."
Another member, Representative Blake Farenthold of Texas, told colleagues and Ryan that he wanted a meeting set between Trump and the entire conference. And still other smaller groups of House Republicans -- such as the executive board of the conservative Freedom Caucus -- were also reaching out for a meeting with the Trump camp.
But Representative Lou Barletta of Pennsylvania, one of a original group of about seven House Republicans who endorsed Trump before he became the presumptive nominee, said he sees his colleagues coming around.
"We Trump supporters used to be able to meet in a phone booth," he joked.