Disney Stokes Media Investors' Fears as Results Fall Short
by
Company shuts down Infinity game unit at cost of $147 million

Strong dollar hurts profit from 'Star Wars' goods sold abroad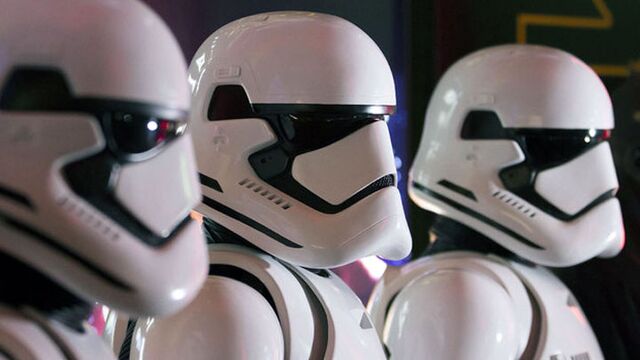 Walt Disney Co. reignited the fears of jittery media investors with second-quarter results that missed analysts' estimates as profit from the ABC broadcast operation fell and the company shut down its Infinity video-games division.
Profit excluding some items totaled $1.36 a share, compared with a projection of $1.40, the average of estimates compiled by Bloomberg. It was the first shortfall against analysts' projections in five years, according to data compiled by Bloomberg. Disney shares fell 4.8 percent to $101.50 at 9:58 a.m. in New York, their biggest intraday drop in three months.
For a story on the Infinity shutdown, click here.
Disney's results renewed investor concern over the outlook for broadcast and cable television companies, which have lost viewers and advertising dollars to online media. Chief Executive Officer Robert Iger is making deals to carry channels like ESPN on online-streaming providers such as Sling TV to make up for declining subscriptions through traditional cable.

"The miss by the media networks segment plays upon investors concerns for this stock," said Paul Sweeney, a Bloomberg Intelligence analyst. "If the pay-TV bundle is fraying and affiliate fees are at risk, then Disney may be the most exposed since ESPN is the highest priced cable network."
For a quick wrap of analyst commentary on Disney today, click here.
ESPN Profits
While ESPN kept losing subscribers in the quarter, the network's profits rose because it has been able to demand higher fees from its distributors. The A&E cable networks, in which Disney owns a stake, had smaller profits than a year earlier because of lower ad sales and higher spending on programming designed to make the channels essential for cable operators to maintain in their lineups.
Overall, profit at the company's cable networks rose 12 percent, in part because ESPN spent less on programming. The sports network carried fewer college football games in the quarter, resulting in lower ad sales and also sharply lower costs.
Iger has said his goal is to make ESPN available through many different pay-TV providers, and he said Tuesday on a conference call with investors that discussions with online-streaming companies have been "quite productive." The company announced a legal settlement Tuesday with Verizon Communications Inc. that lets the telephone carrier continue to market a less-costly basic pay-TV package that doesn't include ESPN.
The company reiterated its forecast for a mid-single-digit rate of growth in cable profit for the four years ending in fiscal 2016.
The closing of the Infinity game unit, part of the company's consumer division, resulted in a $147 million expense as Disney wrote off its investment in the business and recorded costs for job cuts. Infinity combined computer or console game play with collectible figurines. The closing marks a retreat from the company's efforts to make console games on its own.
Iger said on the call with investors that he lost confidence in the video-game business. The division has two more games to release this month and in June.
The broadcasting unit -- mostly made up of the ABC network and Disney-owned local stations -- had an 8 percent decline in operating income because of higher programming costs and lower sales of programs to other outlets.
Those results overshadowed a big showing by Disney's red-hot film studio, where profit grew 27 percent to $542 million, with revenue advancing 22 percent, on the wings of "Star Wars: The Force Awakens" and "Zootopia." The movie business is likely to lift Disney's results throughout the year, with "The Jungle Book" and "Captain America: Civil War" performing well in the current quarter.
Total sales grew 4 percent to $13 billion in the period ended April 2, compared with the $13.2 billion average projection.
Disney's media networks posted flat revenue of $5.79 billion, less than the $5.93 billion average of four analysts' estimates compiled by Bloomberg. Profit, at $2.3 billion, compared with estimates of $2.34 billion.
Profit from consumer products slumped 8 percent to $357 million, as the strong dollar cut earnings "Star Wars" merchandise and Infinity results shrank. Analysts expected $452 million. 
Theme-park profit advanced 10 percent to $624 million. The company's new Shanghai park opens on June 16.


Iger also said Disney's board will have ample time to find a successor by the time of his scheduled retirement in June 2018. In April the company announced the resignation of Chief Operating Officer Tom Staggs, who was seen as a likely successor.
Iger said he has no plans to stay beyond 2018.
Before it's here, it's on the Bloomberg Terminal.
LEARN MORE