State Department Lacks Clinton Aide's E-Mail File
By
Former aide Pagliano was granted immunity by FBI in probe

Clinton used private server to send or receive 60,000 messages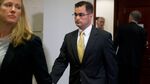 The State Department has not located an e-mail file used by a staffer during a key period after he established and maintained a private computer server used by former Secretary of State Hillary Clinton.
The staffer, Bryan Pagliano, was granted immunity in the FBI's continuing probe into the security of the server. The State Department said Monday that while it does have an e-mail master file, known as a pst, related to Pagliano's employment as a contractor after Clinton left office in 2013, it hasn't found one from her tenure. The department added that it does have some of his e-mails from his time with Clinton. The information came in response to a Freedom of Information Act request and legal filing by the Republican National Committee.
"We are continuing to search for Mr. Pagliano's emails which the Department may have otherwise retained," the State Department said in a statement.
Clinton used private e-mail to send or receive about 60,000 messages from 2009 to 2013. She and her aides said about half were work-related and turned over to the State Department. Under U.S. law, e-mails created or received during the course of official business are federal records.
Clinton's use of the server has dogged the Democratic front-runner's bid for the presidency for more than a year. The 68-year-old candidate has apologized for using the server, which she said was set up as a matter of convenience, and has denied she did anything illegal.
'Shed Light'
Pagliano's full e-mail records "might shed light on his role in setting up Clinton's server, and why he was granted immunity by the FBI," said Raj Shah, deputy communications director at the RNC.
Before being granted immunity, Pagliano in September 2015 invoked his Fifth Amendment rights against self-incrimination before a congressional committee. He and other aides, however, have spoken with the FBI, some in recent weeks, according to CNN. Such testimony could provide insight into how the server was used and whether it was secure.
The Clinton campaign has said the FBI hasn't scheduled an interview with Clinton herself and an interview wouldn't mean that an indictment is coming.
The RNC had filed suit in federal district court against the State Department for records including e-mails to and from Pagliano between May 1, 2009, and February 1, 2013, the majority of Clinton's tenure.
E-Mail Archive
The State Department doesn't automatically archive all e-mails.
"The Department acknowledges that we must work to improve our systems for records management and retention," Elizabeth Trudeau, the State Department press office director, said Monday. "The Department is now automatically archiving Secretary Kerry's emails as well as the emails of numerous senior staff."
The Clintons privately paid Pagliano, who worked on the former senator's failed 2008 presidential campaign before joining the State Department, for the server's set-up and upkeep.
Phone messages to Pagliano attorney Mark MacDougall and an e-mail to Clinton spokesman Brian Fallon requesting comment on the e-mails and the server weren't immediately returned.