Economic A-Team Down to Last Man as Erdogan Exerts His Power
by
Deputy PM Simsek seen as architect of Turkey's expansion years

Economy is shifting away from model long favored by investors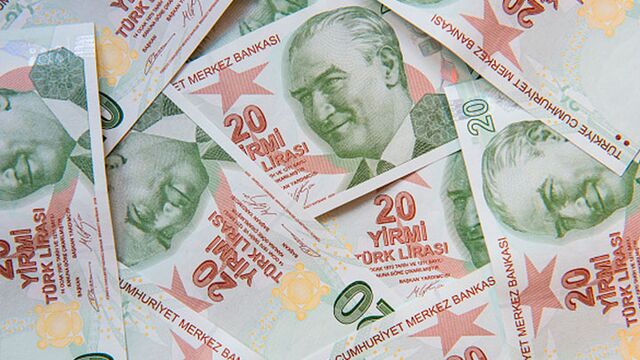 Turkish Deputy Prime Minister Mehmet Simsek is the last man standing from the team feted by investors as the driving force behind the nation's rapid growth years.
QuickTake Turkey's Continental Divide
One-by-one, President Recep Tayyip Erdogan is removing the AK Party policy makers whose focus on balancing budgets, taming inflation and fiscal stability led to average growth of 5 percent over 13 years to 2015. His handpicked prime minister, Ahmet Davutoglu, decided to step down on Thursday, ending a power struggle over management of the economy and Erdogan's efforts to add executive power to his traditionally ceremonial office.
Like Davutoglu, former Merrill Lynch strategist Simsek has defended the kind of orthodox monetary policy that so riles Erdogan, specifically raising interest rates when necessary to curb inflation. Erdogan argues that lower borrowing costs and subsequent faster growth would more effectively slow price gains, and with Davutoglu gone, there may be little to insulate Simsek from pressure to fall into line.
That may spell the end to an unspoken truce between Erdogan and investors, who tolerated his quest for more power as long as people trusted by markets like Simsek ran the economy.
"There would be no AK Party economic miracle without this team of capable technocrats," said Tim Ash, head of emerging-market strategy at Nomura International Plc in London. "The concern now is that without these individuals, and with a coterie of untested economic policy advisers around Erdogan, Turkey will be very vulnerable to market pressure."
'Rationality'
In a speech on Friday, his first since the showdown between Erdogan and Davutoglu, Simsek said Turkey's economic policies should follow global norms and "rationality" should be retained to attract foreign investors. That's the only way in which banks can continue to lend to companies to drive the economy, he said.
Simsek, 49, became minister of the economy in 2007. He's widely credited for maintaining fiscal discipline as finance minister between 2009 and 2015, a period in which the ratio of public debt to gross domestic product fell to 33 percent from 46 percent, according to data compiled by Bloomberg. He worked closely with former Deputy Prime Minister Ali Babacan, who was removed from the cabinet last year under pressure from Erdogan.
Kurdish Offensive
Some in Turkey see Simsek benefiting from Davutoglu's departure. He has always enjoyed the president's strong backing, said a person familiar with the matter who asked not to be named because of the sensitivity of the subject, and may gain greater access to Erdogan following the exit of a hands-on premier, the person said.
That's a view few outside Turkey seem to share.
Until last week, investors had largely ignored growing turbulence in Turkey fueled by domestic politics, the spill-over of Syria's war and Erdogan's renewed attempt to crush Kurdish separatists. A November election guaranteed four years of uninterrupted AK Party rule, and the value of Turkish debt and stocks held by foreigners rose to about $87 billion as of April 29 from about $72 billion at the end of 2015.
Mood Darker
But Davutoglu's decision to step down as AK Party chairman and prime minister -- just weeks after the arrival of a new central bank governor -- roiled financial markets in a sign the mood may be darkening. The lira fell the most in four years against the dollar on Wednesday, before trimming some of the loss on Thursday and Friday. Along with bond yields, the cost of insuring Turkish debt against default has also risen.
Davutoglu's term is expected to end officially at an AK Party summit on May 22, after which a new leader should form a government. Up for grabs will be economic posts, including Simsek's.
Speculation over possible successors to Davutoglu has raised the risk perception among investors, the Washington-based Institute of International Finance said in a report. Three supporters of the president -- Transport Minister Binali Yildirim, Energy Minister Berat Albayrak, who's also Erdogan's son-in-law, and Justice Minister Bekir Bozdag -- have all been mentioned in local media.
Rating Risk
It's unclear whether Simsek will be included in the new cabinet. Even if he stays, economic policy will be more subject to Erdogan's influence than before.
"More important than the resignation of Mr. Davutoglu will be any impact that this may have on the economic team, particularly Simsek's position in the cabinet," Abbas Ameli-Renani, an emerging-markets strategist at Amundi, said by e-mail. Simsek's removal could have a negative impact on Turkey's credit rating, he said.
S&P Global Ratings maintained its BB+ junk rating on Turkish debt on Friday while lifting its outlook to stable from negative. Moody's Investors Service and Fitch Ratings both rate Turkey at their lowest investment grades.
Cemil Ertem, a top Erdogan adviser, said in an interview with Bloomberg HT that possible personnel changes won't alter economic policy.
Even if Simsek stays, investors must take into account "a greater probability" of political disruption, such as a snap election or an even tighter grip on power by Erdogan, according to Nigel Rendell, a senior analyst at Medley Global Advisors LLC in London.
"Simsek is better than nobody," he said. "If he goes, we'll end up with nobody, so it's not good for the market."
Before it's here, it's on the Bloomberg Terminal.
LEARN MORE