Reality Check: Which VR Device Is Right for You?
Virtual-reality headsets from Google Cardboard to the top of the market.
By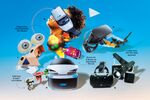 1. Google Cardboard
Price: $15
You'll need: A phone with at least Android 4.1 or iOS 8.0
Availability: Out now
The details: Google's VR device is basically just some folded cardboard, two glass lenses, and a slot for a smartphone. What more would you expect for $15? You hold it up to your face instead of strapping it on, and mostly it's used for watching 360-degree videos (refugee camps, political rallies, etc.), not playing games. If $15 is too expensive, Google has instructions for making your own headset at google.com/get/cardboard.
Buy it if: You want to see what the fuss is all about without dropping serious coin.

2. Samsung Gear VR
Price: $100
You'll need: A Samsung Galaxy S7, S7 Edge, S6, S6 Edge, or Note 5
Availability: Out now
The details: Samsung's headset is like Google Cardboard deluxe. It has better padding, sensors that can tell when you're actually wearing it, and a button and a touchpad on the side so you're able to navigate through apps and menus without taking it off. You can add a wireless video game controller, but Samsung really talks up its immersive movie-watching "experiences"—3D versions of hits like The Hunger Games and The Martian. More movies and games are being made available for Gear VR all the time, but the quality of the content is uneven.
Buy it if: You're carrying around a Samsung phone and want more than Google Cardboard but don't feel like springing for a high-end headset.

3. Sony PlayStation VR
Price: $400
You'll need: A PlayStation console ($350) and PlayStation camera ($50 to $60)
Availability: October
The details: Sony's device is the lowest end of the high-end headsets, which use external cameras to track the movement of your head and hands. (Sony's model has lower screen resolution.) These cameras allow PlayStation VR to change your perspective as you move your head around. Sony says it will have 50 games when the headset comes out; it's boasting about an exclusive Star Wars game, although it isn't clear whether that will be ready on Day One.
Buy it if: You have a PlayStation, and you're willing to wait a few months.

4. Oculus Rift
Price: $600
You'll need: A serious gaming PC. Oculus VR-endorsed models such as the Asus G11CD cost $1,050 or more because they have powerful graphics cards.
Availability: On sale but back-ordered until August, and customers are limited to one per person
The details: Oculus Rift set off the VR craze when it launched as a Kickstarter project in 2012. Then Facebook paid $2 billion to buy the startup before it had even released a product. Like many a version 1.0, Oculus is a work in progress. The company is designing a pair of motion-sensing controllers that you'll hold in your hands, but for now it ships with a simple Xbox controller. Oculus comes with a game called Lucky's Tale, starring a cartoon fox; about 30 other titles are available, ranging from $5 to $60.
Buy it if: You're ready for the revolution.

5. Vive VR
Price: $800
You'll need: A serious gaming PC. Vive endorses ones such as the HP Envy, which costs $999.
Availability: On sale but back-ordered until June
The details: HTC and video game developer Valve collaborated to make the most ambitious of the first-wave headsets. Most headsets require the wearer to remain stationary, but Vive VR is designed to be used while walking around. It also includes hand trackers, so you can control games with natural movements; in Audioshield, you use your hands to block incoming orbs from hitting your body while dancing to music. Several dozen other games are available through Steam, Valve's platform for PC games.
Buy it if: You want the absolute top of the market, and you're willing to pay for it.

Before it's here, it's on the Bloomberg Terminal.
LEARN MORE