Wall Street Lowers Rate Projections, Widening Gap With Fed View
by and
Survey of economists shows 2.5% median terminal forecast

Policy makers anticipate a 3.25% rate when hiking cycle ends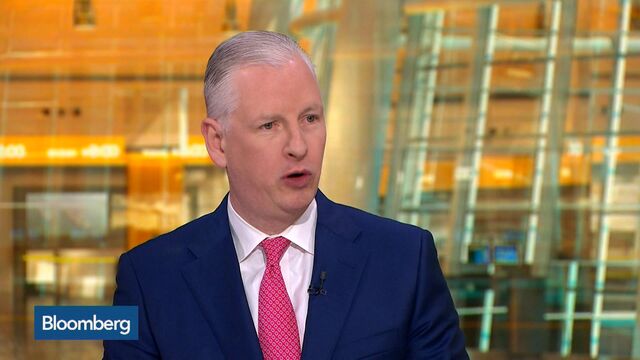 Economists extended their deviation from the Federal Reserve in forecasting the path of U.S. policy tightening as they lowered predictions for how high the central bank will be able to lift interest rates.
Analysts responding to a Bloomberg survey cut their expectations for the Fed's peak policy rate at the end of this tightening cycle, known as the terminal rate, to a median of 2.5 percent, from 2.875 percent in February and 3.375 percent in July. That compares with the Fed's median forecast of a 3.25 percent terminal rate, which it revised in March from 3.5 percent in December and 3.75 percent in June.

The cuts reflect growing doubts about the Fed's ability to tighten monetary policy amid uneven economic growth and below-target inflation, and as global central banks continue easing. Futures traders have pared bets on the Fed's policy path and now assign coin-flip odds to a rate increase in 2016, down from a 93 percent probability assigned at the start of the year. Officials in March lowered their forecasts for 2016 increases to two from four.
"The main thing is you can't get the rate much higher by the fourth quarter of 2017, and I think something will have happened by then that will lead to two successive quarters of contraction," said Hugh Johnson, chairman of Hugh Johnson Advisors LLC in Albany, New York, and one of 41 survey respondents. "This is already one of the longest recoveries in the postwar period, and recoveries just don't last that long."
The yield on the Treasury 10-year note fell three basis points, or 0.03 percentage point, to 1.75 percent as of 5 p.m. New York time, the lowest since April 11, according to Bloomberg Bond Trader data. The price of the 1.625 percent note due in February 2026 was 98 29/32.
Sixteen respondents pushed back predictions for when the Fed will reach its terminal rate, including seven by at least a year. The fourth quarter of 2018 remained the most popular date among respondents to the survey, which was conducted May 3-4.
Johnson pared his terminal rate forecast to 1.875 percent from 3.75 percent in the February survey. He moved up the projected terminal rate timeline to the fourth quarter of 2017 from the second quarter of 2018.
Futures traders expect the Fed's effective rate to be about 0.51 percent by year-end. That's close to the midpoint between the current effective overnight rate of 0.37 percent and the 0.625 percent level where it may stand if the central bank raises its target range by a quarter-point again after liftoff from near zero in December. Traders see a 10 percent chance the Fed will raise rates at its next meeting in June.
Before it's here, it's on the Bloomberg Terminal.
LEARN MORE