The Business Case for Relinquishing AAA Credit Ratings
The in crowd is kissing perfect bond ratings goodbye.
By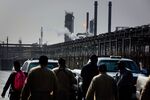 Status symbols don't last forever. The original Queen Mary no longer sails, Cadillac stopped making the DeVille in 2005, and having an S&P credit rating of AAA isn't what it used to be. ExxonMobil CEO Rex Tillerson told CNBC in March that he hoped to maintain a triple-A rating "because it's important to us reputationally." But when push came to shove, raising the dividend and buying back shares were higher priorities than keeping debt low enough to preserve that pristine credit reputation. Last month, S&P Global Ratings knocked the company down to AA+. That leaves only two nonfinancial corporate AAA's in the U.S., Microsoft and Johnson & Johnson, down from 60 in 1980.
A triple-A rating is a token of balance-sheet perfection. Investors accept lower rates on the bonds of AAA-rated companies because their formidable financial resources mean there's almost no risk they'll miss a payment. S&P judges a triple-A borrower to have "extremely strong capacity to meet its financial commitments," while a double-A borrower has only "very strong capacity." The top rating at rival Moody's Investors Service is Aaa.
In certain circles, a full set of A's conveys prestige. "It's that whole AAA aura, like a halo effect," says Diane Vazza, a managing director in global fixed-income research at S&P. But corporate chiefs have to find the best way to deploy resources, and having a triple-A rating can reflect an excess of prudence.

Finance theory says a company should balance tax savings against the risk of bankruptcy. Interest payments on debt are tax-deductible, so it's advantageous to borrow—especially now, when the Federal Reserve's easy-money policies have made borrowing cheap even for companies with a less-than-perfect balance sheet. As the chart to the right shows, AAA-rated nonfinancial corporate debt yielded only 0.13 percentage points less than AA-rated issues in April, according to data collected by Bank of America Merrill Lynch. Cash-rich Apple could earn a triple A easily, but the AA+ it has today reflects its choice to borrow to reward shareholders.
The mass desertion of the AAA reflects a larger truth about corporate finance: Company managers are strongly influenced by what their peers are doing, says Aswath Damodaran, a finance professor at NYU's Stern School of Business. "If everyone else is borrowing, you tend to borrow, too," he says.
Of course, debt is a problem if the burden gets too heavy and the risk of default rises. Yields investors demand skyrocket when a company falls into the CCC's. The sensible spot is somewhere between the extremes.
One indication that fads affect financing decisions is that leverage ratios swing wildly. For companies in the S&P Composite 1500 index, they've jumped lately. The average ratio of net debt to earnings before interest, taxes, depreciation, and amortization rose from 0.7 in 2006 to 1.9 in 2015. "The idea of boosting returns in a deliberate debt-funded way has become more acceptable," says Andrzej Skiba, a money manager at BlueBay Asset Management.
Borrowing to pay for dividends and buybacks will one day go out of style just as quickly as it's come into style, says NYU Stern's Damodaran. "You need the equivalent of a corporate Prozac to calm these guys down, because they're essentially bipolar," he adds.
J&J denies it's being irrationally conservative by clinging to all three of its A's. "We're very proud of the fact that we're AAA-rated, but we would not let that alone be a determinant in whether or not we allocated capital to increase shareholder value," Dominic Caruso, the company's chief financial officer, told analysts last year. J&J announced a $10 billion share-repurchase program in 2015 and this April raised its dividend for the 54th consecutive year.
Microsoft, which has more than $100 billion in cash and short-term securities, is so stuck on its AAA that it doesn't even get questions from analysts about it. The company, which declined to comment, has steadily raised its dividend and bought back shares—a demonstration that it doesn't need to lose its AAA to reward shareholders. Likewise, an ExxonMobil spokesman says that despite the S&P downgrade, "nothing has changed in terms of the company's financial philosophy or prudent management of its balance sheet." Moody's still gives the company its top rating.
Credit quality doesn't matter only to investors. Companies that loaded up on debt in the early to mid-2000s were more likely than others to fire workers once the 2007-09 recession hit, according to a National Bureau of Economic Research working paper issued last year. Weak balance sheets were "instrumental in the propagation of shocks" during the crisis, Xavier Giroud of MIT's Sloan School of Management and Holger Mueller of the Stern School of Business wrote in the report. Decisions about debt may be idiosyncratic, but they're definitely consequential.
 
—With Sridhar Natarajan and Michelle F. Davis
The bottom line: For many companies, using their money to expand or to make shareholders happy is worth letting their AAA S&P rating drop.
Before it's here, it's on the Bloomberg Terminal.
LEARN MORE