Building a Broader Labor Force
A Latin American startup is teaching young women to code.
By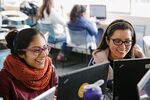 Less than a year ago, Lorena Torres was earning about $200 a month, making chocolates at home that her boyfriend sold aboard jam-packed, dilapidated buses clogging the streets of Lima. "I was in a bad place," she says. "I felt badly for not having work, for wanting to get ahead and not being able to."
These days, Torres works in front-end Web development at the industrial-chic offices of digital marketing giant Wunderman Phantasia. She's earning twice as much since hanging up her apron, a lot closer to the country's $524 average monthly wage, and her boss says her position and earning power have room to grow.
Torres attributes the change to Laboratoria, a startup that offers coding boot camps and job placement assistance to young women in Chile, Mexico, and Peru. The three-hour online entrance exams, testing abstract reasoning as well as logic and math skills, target women who have little or no background in computer science or college education, says co-founder Mariana Costa. The application process also includes interviews and sample assignments.
Laboratoria's first pilot program, in 2014, began after Costa and her husband returned from studying and working in New York to Lima, where they struggled to recruit developers for a fledgling Web design company. "We needed to build a team, and there weren't enough developers," she says. "Even fewer good ones." And since only 3 in 10 Peruvian software engineers are women, she says, it was especially tough to diversify her team—until she started teaching people herself.
The five-month boot camp at Laboratoria, a 9-to-5 (or later) crash course for women who often are staring for the first time at their reflections in darkened computer screens, includes training in HTML, JavaScript, CSS, and GitHub. Following its pilot in Lima, Laboratoria graduated 150 coders in 2015. It's set to graduate 300 this year, including in Mexico City, Santiago, and Peru's second-largest city, Arequipa, as well as the capital. Twelve hundred women applied, Costa says.
Laboratoria's business model puts it somewhere between a conventional coding boot camp and a microlender. Students agree to pay the startup 10 percent of their monthly salary for three years after they graduate, but during training pay a symbolic $6 a month. Sixty percent of the graduates land entry-level coding jobs after completing their Laboratoria training, Costa says, and earn on average two and a half times their previous wages. "This isn't charity work," says Gisella Esquivel, Torres's boss at Wunderman Phantasia. "It's a win-win."
Along with a share of graduates' salaries and some money from Costa's Web business, grants help finance the training program. The Inter-American Development Bank recently gave Laboratoria $900,000 to help train 10,000 coders in the next five years. The money is partly earmarked for four new teaching facilities and a so-called blended learning program that will allow students to do some coursework from home, on their own time.
Collectively, Latin America and the Caribbean will need about 1.2 million software developers within the next decade, says Julie Katzman, executive vice president of the Inter-American Development Bank. Currently, the region's educational pipeline struggles to turn out even 1,000 coders a year who will stay there, she says.
Blended learning could help further broaden Laboratoria's student body. For most trainees, at least in Lima, it's about a two-hour commute each way from their poor neighborhoods to the boot camp's tony seaside office. Costa says the company plans to offer continuing education courses for the general public to expand its audience.
Profit remains the startup's big challenge, and Costa is looking for investors. While she tries to scale up, she says she's conscious of the need to make sure Laboratoria doesn't forget its nobler aims. Graduate Galia Pedroza says she's been proud to prove herself as a coder at a university in Lima, surrounded by college-educated men. "They'd never imagined they'd be working with a woman," she says. "We are showing them that if they give us the opportunity, women can do the work that men do."
The bottom line: Laboratoria will graduate 300 women from its coding boot camp this year and aims to produce 10,000 within five years.
Before it's here, it's on the Bloomberg Terminal.
LEARN MORE