A Much Closer Look at Nap Time
America's day care industry goes gaga for digital oversight.
By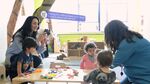 Unless your toddler is a big talker, his days at preschool or day care can be largely mysterious. Many states require teachers to record attendance, scraped knees, and uneaten meals, but it's easy for communication to break down, especially with kids who are semi- or nonverbal. Now, mobile apps with digital logbooks are pushing those updates into the cloud, where parents can track their children in real time.
America's 770,000 preschools and day care centers take in $53 billion a year, estimates researcher IbisWorld. Some have moved into the mobile era on their own: The 900 employer-sponsored day cares operated by publicly traded Bright Horizons Family Solutions let parents schedule backup care via a Bright Horizons app. But 9 out of 10 U.S. day cares are mom and pop operations tending to a handful of children, and IT isn't a priority. So software developers saw a market for apps that could simplify the filing of paperwork. They say the appeal for parents was a bonus.

App makers including HiMama, Tadpoles, and Brightwheel offer up-to-the-minute details of a child's day. Brightwheel says teachers using its software send each child's parents 8 to 10 updates in a typical day. Some sample day care messages: "Serena was in a photo—Aquarium!! (4:49 pm); Serena ate—Food: [ate] most (4:55 pm); Kudos! Counted to 20 today! (5:51 pm)." Parents can also use Brightwheel to pay tuition. David Raye, the owner of a Goddard School franchise in Third Lake, Ill., says Tadpoles saves him $2,000 a year on paper and copier expenses.
For parents, all three leading apps are free. Tadpoles charges schools $2.25 a month per child; HiMama charges $29 a month per class. (Brightwheel isn't charging schools, but it raised $600,000 on Shark Tank.) HiMama co-founder Ron Spreeuwenberg says parents are his best salespeople. When a user's phone buzzes with an update during a meeting, co-workers say, "My kid goes to day care. Why don't I get this?" and pester their day care providers to subscribe, he says.
HiMama, in Toronto, says users grew 15 percent monthly in the first quarter of the year and now number 100,000. Tadpoles, in Bethesda, Md., says more than 1 million families in 50 states use its software. San Francisco's Brightwheel declined to share user numbers.
Michael Rich, a pediatrics professor at Harvard Medical School and director of the Center on Media and Child Health, says a constant stream of updates may exacerbate the controlling tendencies of parents who should use preschool or day care as an opportunity to unclench. "There's value to understanding your kid's take on what happened at school rather than an omniscient Big Brother view," he says.
That's great if your kid is eager to share, says Tadpoles co-founder Andy Monroe, but his own kindergarten-age daughter is often a lot chattier when he can prompt her with a photo from a teacher. Otherwise, she's as likely as not to answer any questions about the day's events with a flat, "Nothing." Devon Gorry, an economist at Utah State University whose 2-year-old son started at a day care using Brightwheel in January, says the daily updates have also helped deepen talks with teachers.
Apps can help keep parents from getting overinvolved, says Tracie Riebschlager, assistant director of Oak Brook School, a preschool outside Dallas that uses HiMama to send several photos a day to parents. Some rivals have installed cameras to run continuous video feeds on their websites, Riebschlager says. "I know parents who sit and watch their kids all day at work," she says. "To me, this is much healthier."
The bottom line: Apps that digitize updates from preschools and day cares are becoming popular perks for parents, too.
Before it's here, it's on the Bloomberg Terminal.
LEARN MORE