politics
Campaign Wrap: Trump Last One Standing, Democrats Battle On
By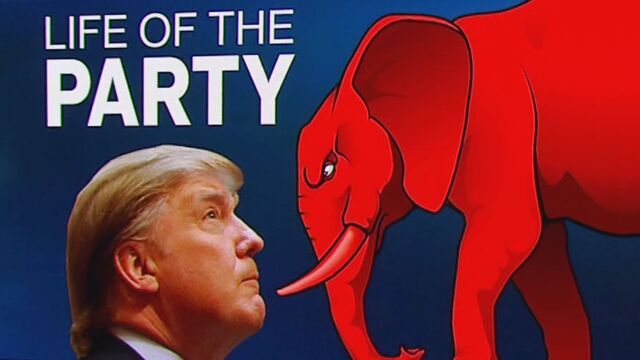 A Republican field of 17 is now whittled down to one: Donald Trump is on his way to being his party's standard-bearer.
John Kasich is set to drop out this evening, following Ted Cruz's withdrawal yesterday in the wake of Trump's convincing primary win in Indiana
Republicans, at least for now, split into 2 camps—those who could accept Trump as the nominee and those who refused to do so
Washington Post lists conservative figures who came out for Hillary Clinton over Trump

Red State's Jay Caruso tweeted a Alexander Hamilton quote that made the rounds: "If we must have an enemy at the head of government, let it be one whom we can oppose, and for whom we are not responsible"

Bloomberg's Michael Bender and Jennifer Jacobs report that Trump has a tough road ahead in uniting the GOP 
Seth Bringman, former spokesman for "Ready for Hillary" group: "To all of you who have said for years, 'I hate Hillary Clinton. I'll never vote for her,' we say: WELCOME!!!!"
Still, the year's many surprises include a GOP race that's more settled than the Democratic one, as Clinton and Bernie Sanders continue to battle it out in primaries

While Sanders' upset win in Indiana didn't narrow Clinton's delegate lead, it gave Sanders renewed reasons to stay in the race

VEEPSTAKES
As Trump turns toward the general election, he tells New York Times that he'll soon debut his selection committee for choosing a running mate, and he'll announce his pick in July
He said committee would include Ben Carson
Trump said on CNN he'd vet Kasich for vice presidential spot
"I've gotten along with him well," he said
He also said on MSNBC he "probably will go the political route" in selecting a running mate

ON THE TRAIL
Trump said his tasks during a first 100 days as president would include calling executives from companies such as Pfizer, Carrier Corp., Ford, and Nabisco to threaten 35 percent tariffs on their products if they move jobs overseas, New York Times reports
Says he'd also rescind President Obama's executive orders on immigration during that period
Wall on U.S.-Mexico border would be designed by 100th day, he says
The businessman tweeted this morning that he'd rather run against "Crooked Hillary Clinton" than Sanders
He later said on MSNBC that he'll decide next week whether to embrace super-PAC support
Refusing to back down on repeating unsubstantiated story tying Cruz's father to JFK assassin Lee Harvey Oswald, Trump said he discussed it because Cruz's father "said very nasty things about me"
RNC Chair Reince Priebus said Cruz's exit from the race was "unexpected" and "it's time to unite"
Clinton said Trump becoming the presumptive nominee "didn't surprise me at all"
"It seemed pretty clear for some time how it was going to turn out," she said on CNN

STAFF MOVES
 GOP operative Ed Rollins has signed on as a strategist for Great America, a super-PAC backing Trump, AP reports
Rollins was campaign manager for Ronald Reagan's 1984 landslide re-election

ENDORSEMENTS
Rep. Candice Miller endorsed Trump, Politico reports
Miller is Michigan Republican who isn't seeking re-election
Investor Marc Andreesen tweeted "#ImWithHer," indicating his support for Clinton

POLLS
NATIONAL: Clinton leads Trump 54%-41%, according to CNN/ORC poll
NJ-Dem: Clinton has support of 60% of likely Democratic voters in state's June 7 primary, Sanders has 32%, according to Monmouth poll

ETC.
A judge approved discovery motion in Clinton e-mail FOIA case, Politico reports
Her former State Department aides, including Cheryl Mills and Huma Abedin, will be deposed over the next eight weeks
Omega Advisors CEO Leon Cooperman said yesterday in N.Y. that Clinton is the "less risky" choice over Trump

Before it's here, it's on the Bloomberg Terminal.
LEARN MORE