Photographer: Anya Semenoff/Denver Post via Getty Images
business
New Record Set for World's Cheapest Solar, Now Undercutting Coal
By
2.99 U.S. cents per kilowatt-hour is 15% lower than old record

Cheaper than new coal-fired electricity in the Gulf emirate
Solar power set another record-low price as renewable energy developers working in the United Arab Emirates shrugged off financial turmoil in the industry to promise projects costs that undercut even coal-fired generators.
Developers bid as little as 2.99 cents a kilowatt-hour to develop 800 megawatts of solar-power projects for the Dubai Electricity & Water Authority, the utility for the Persian Gulf emirate, announced on Sunday. That's 15 percent lower than the previous record set in Mexico last month, according to Bloomberg New Energy Finance.
The lowest priced solar power has plunged almost 50 percent in the past year. Saudi Arabia's Acwa Power International set a record in January 2015 by offering to build a portion of the same Dubai solar park for power priced at 5.85 cents per kilowatt-hour. Records were subsequently set in Peru and Mexico before Dubai reclaimed its mantel as purveyor of the world's cheapest solar power.
"This bid tells us that some bidders are willing to risk a lot for the prestige of being the cheapest solar developer," said Jenny Chase, head of solar analysis at BNEF. "Nobody knows how it's meant to work."

Plunging costs along with the bankruptcy for the biggest developer, SunEdison Inc., has spurred questions about whether the cheapest projects will ever be profitable. The collapse of the world's largest renewable energy company made some banks wary of financing projects. The winners of recent auctions in Mexico, Peru and Chile were diversified power companies like Enel SpA, which perhaps prioritized market share over profit maximization.
Dubai's utility didn't identify the developers behind the record-low bid it received. MEED reported that it's a group including Masdar Abu Dhabi Future Energy Co., Spain's Fotowatio Renewable Ventures BV and Saudi Arabia's Abdul Latif Jameel. Among those companies, only Masdar could be reached for comment, and it didn't confirm that it was the low bidder.
"A consortium led by Masdar, Abu Dhabi's renewable energy company, was one of a number of bidders to have submitted a proposal for the third phase of the Mohammed bin Rashid Al Maktoum Solar Park," a spokesperson for the consortium said in an e-mailed statement. "This is an active bid, with the technical and commercial proposals being evaluated by Dubai Electricity and Water Authority."
Tender Process
The shift to tenders from feed-in tariffs for clean energy globally has helped governments rein in support for renewables while prodding companies to deliver lower costs. That's shifted pressure away from government budgets and toward developers, which must strike a balance between a winning new contracts and maintaining profits.
Enel Green Power's Chief Executive Officer Francesco Venturini, whose company bid 3.5 cents a kilowatt hour in Mexico last month, said in an interview that his projects will still make decent money even with record-low prices for electricity.
Enel's Strategy
"There is no value in winning without margin attached," Venturini said in an interview in Brussels last month. "I have two investment committees and two boards of directors I need to present my projects to and they want to see the money attached to it. So trust me, there is margin."
Dubai's state utility said it received five bids for the 800-megawatt project, which will be the third phase of the Mohammed bin Rashid Al-Maktoum solar park. It has not awarded the building permits yet. The facility is planned to have a capacity of 5 gigawatts by 2030.
"This price is borderline in terms of viability, but it's an outlier project," said Josefin Berg, solar analyst at IHS Inc., an industry researcher. "The size of the installation makes it easier to get good conditions on their procurement. It shouldn't be used as a benchmark."
The 2.99 cents bid for the solar project is a third lower than the electricity that will be generated by a coal plant commissioned by Dubai in October. That facility, set to begin generating in 2020, is expected to feed power onto the grid at 4.501 cents per kilowatt-hour under a 25-year power purchase agreement.
Watch Next: Musk vs. Buffett, a Solar War in the Desert Heats Up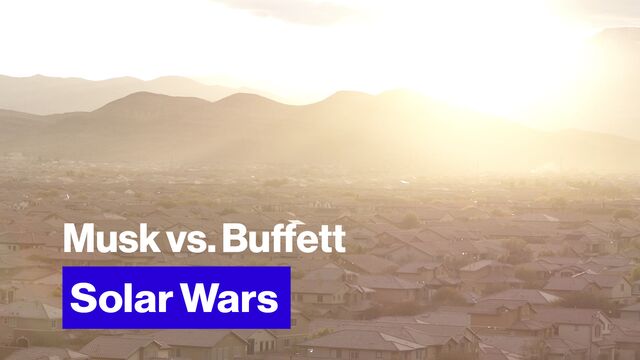 — With assistance by Anthony Dipaola
Before it's here, it's on the Bloomberg Terminal.
LEARN MORE