Ex-Kleiner VC Ellen Pao Introduces Diversity Initiative
Project Include will offer tips to tech companies on how to attract and retain diverse talent.
by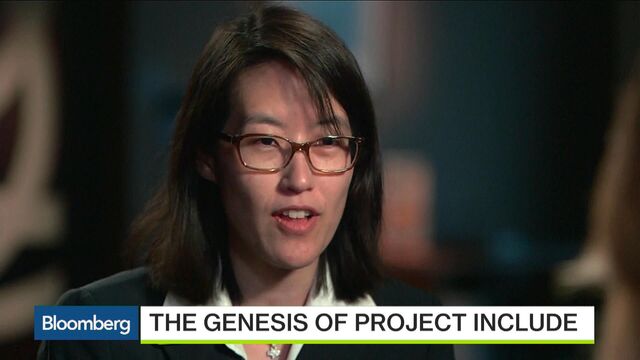 Ellen Pao, who helped shine a light on gender-discrimination issues in Silicon Valley with her lawsuit against a top venture capital firm, unveiled an advocacy group on Tuesday that focuses on diversity in the technology industry.
Project Include, which Pao helped start with other female technology leaders, will publish advice for companies to improve their inclusion initiatives. The group said it will suggest ways to recruit and hire a diverse group of workers, as well as provide advice on how to train, compensate, and retain those people. It will also help compile research on bias and offer an online forum for professionals to contribute ideas.

Pao sued her former employer, Kleiner Perkins Caufield & Byers, in 2012, alleging she had been passed over for promotions and excluded from corporate events because she's a woman. The venture capital firm won the lawsuit on all counts in a jury trial last year. Pao also served as interim chief executive officer at Reddit Inc., where she tried to crack down on harassment within the online community.
Bethanye McKinney Blount, former chief engineer at Reddit, was among the women who joined Pao in starting Project Include. Other members include Kapor Capital partner Freada Kapor Klein, Pinterest Inc.'s Tracy Chou, and Slack Technologies Inc.'s Erica Joy Baker. Startups can apply to have access to members for guidance on how to implement the group's recommendations. The program, called Start-Up Include, will accept as many as 18 companies and conduct research on their diversity efforts.
Pao said in an interview on Tuesday with Bloomberg TV's Emily Chang that Project Include already has received interest from several companies in implementing their recommendations. She declined to name them. Pao also said she's working on a book that will chronicle her experiences in Silicon Valley, along with stories from other women in the tech industry.
Before it's here, it's on the Bloomberg Terminal.
LEARN MORE