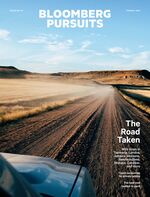 Here's the first and last time a Bloomberg employee will ever write these words: Log off your Terminal. For a weekend. For a week. For as much time as it takes to get on a plane, go away, and have an adventure that leaves you feeling refreshed and invigorated and maybe a little bit tan. This is Bloomberg Pursuits' first travel issue, and the trips we've included take you all over the globe—a Michelin-starred meal in the French countryside, a romantic Caribbean holiday, an elk mating party in Montana (humans are only invited to watch).
My favorite story, by writer Sarah Hepola, uncovers Newfoundland's remote and beautiful Fogo Island Inn, an architecturally stunning retreat created by Zita Cobb, a former fiber-optics executive and one of the richest women in Canada. Everything at the upscale property is locally sourced, down to the partridgeberry juice at breakfast; even the structure's design is inspired by the fishing shacks along the island's shoreline. It's a singular place, so far removed from everyday life that it leaves visitors transformed.
Time off, of course, requires packing, and this month's Spend portfolio features luxurious accessories such as Pryma headphones, Valentino espadrilles, and a Louis Vuitton minitrunk. The accessories were shot in a Cessna Citation X, one of the fastest midsize jets in existence. With a range of 3,400 miles, it's just the aircraft to book for a long weekend holiday. I thought of that Cessna longingly while in an epic security line at LaGuardia during a recent trip to Miami with my 6-month-old baby in tow. (As Robert Benchley put it accurately, "In America there are two classes of travel—first class, and with children.") That's the thing about getting away: If you're going to do it, do it well.
So sit back, relax, and—who are we kidding?—open up your Bloomberg app. The world's waiting for you to discover it.
SEEK
London's Best Restaurants According to Top Chefs
Seven of the world's best chefs on their favorite spots in the British capital
Drive a Lamborghini Huracán Up the Coast of Monaco
Enjoy the view of Monte Carlo in a sleek new supercar
Elegant, Natural Furniture Inspired by Chile
Ignacia Murtagh's designs are natural beauties
Five Cameras for Your Next Getaway
The best new cameras for whatever kind of trip you're taking
Scale a Crater in Israel's Negev Desert
Hike, rappel, and lose yourself in the vistas of Israel's answer to the Grand Canyon
Anthony Mackie on Fishing, Drinking, and His Love of New Orleans
The Captain America star tells how to live like a local in the Big Easy
Three Adventure-Packed Days in Tasmania
This southern Australian island is a place of spectacular scenery, exotic animals, and some of the best whisky in the world
The Greatest Stove on Earth
Make your cooking dreams come true with an $18,885 fully customizable Lacanche
Behind the Scenes at Gibson Custom Guitar Workshop
How an uncanny reproduction of the famed 1959 Les Paul gets made
The Perfect Margarita Is Made With Mezcal
Adios, tequila
How Getting a Coach Can Change Your Life
Gerald Marzorati on the pleasure of learning something new from someone who's much, much better than you at it
SPEND
Nine Key Accessories That Will Make Your Travel Better This Year
Jet away with these stylish travel necessities
PURSUE
Your Next High-End Safari Destination: The Plains of Montana
Camp in luxury on the American Prairie Reserve, an ambitious project to turn 3.5 million acres of Montana back over to the animals that once ruled the Plains
Visit the Most Beautiful Spot in Africa
Take a tour of stunning Zanzibar, a place of crystal-blue water and striking white beaches, fragrant spice farms, and an array of new five-star resorts
A Fish That's Worth a Flight to France
At Les Prés d'Eugénie, a spa resort in southwest France, chef Michael Guérard produces simple, sumptuous, almost spiritual food
This Is the Most Remote and Magical Hotel on Earth
Newfoundland's Fogo Island Inn offers a different kind of island getaway
A Fantasy Jamaican Holiday With Hannah Bronfman and Brendan Fallis
The real-life, jet-setting couple model the best and breeziest looks at the GoldenEye luxury resort
Cooking Lessons From Major League All-Star Evan Longoria
In the kitchen with Tampa Bay's third baseman, restaurant owner, and amateur chef
Before it's here, it's on the Bloomberg Terminal.
LEARN MORE