A Do-What-We-Want Law in Thailand May Enable Airport Runway
by , , and
Article 44 gives junta power to bypass regulatory requirements

Planned runway is part of broader infrastructure plan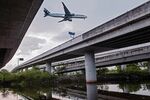 In a move that may be cheered by tourists but faulted by democracy campaigners, Thailand's military junta aims to use a special-powers rule to speed up the approval of a new runway at Bangkok's increasingly stretched main airport.
The measure known as Article 44 makes any action the junta takes "lawful, constitutional and final" and it has been used for everything from banning protests to giving soldiers authority to arrest people. It has also been invoked to kick off a slew of infrastructure projects that the slowing economy badly needs.
"We may proceed with the third runway as soon as possible," Transport Minister Arkhom Termpittayapaisith said in an April 29 interview. "Article 44."
Arkhom said the special powers would likely be used to speed up an environmental impact assessment for the project at Suvarnabhumi Airport. He said the powers will also likely be used for the government's planned high-speed rail projects, as they have already been used to push through three out of seven planned double-track projects.
Thailand is spending about $83 billion over the next seven years to build new railways, roads and customs checkpoints to remove bottlenecks that hamper trade with its neighbors. Many of the planned railways will have two tracks, as opposed to the current single track, which slows down both passengers and freight as trains must wait for other trains passing in the opposite direction.
The government is also negotiating with China and Japan to construct high-speed rail networks that may connect the nation's manufacturing and shipping hubs with buyers and suppliers stretching from Yunnan in southern China to India's northeastern frontier. Thailand slashed the length of the China route, which will now terminate in the central Thai town of Nakhon Ratchasima, about 400 kilometers short of the Thai-Laos border.
Arkhom said the door remains open to further negotiation with the Chinese.
Japan plans to invest in a 574-kilometer east to west dual-track rail line linking Kanchanaburi, Bangkok and Chachoengsao and extending to Sa Kaew and Rayong, and a 670-kilometer high-speed train route from Bangkok to Chiang Mai.
Absolute Power
After toppling the elected government and tearing up the constitution in 2014, the junta wrote an interim charter that gave it broad powers, including Article 44. Prime Minister Prayuth Chan-Ocha has repeatedly pushed back the date for possible elections, with the latest timeline calling for polls in late 2017.
Arkhom defended the use of Article 44 and the pace of construction, saying his ministry has already received cabinet approval for seven of the 20 projects in its 1.79 trillion baht infrastructure spending plan.
"What I committed to was to get cabinet approval and then they can start the bidding process and they can start the construction," he said. "But this type of project takes several years. The government has a time limit only until next year, so our priority is how to get all these projects done, but not finished."
Arkhom said the approved projects include extensions to Bangkok's mass-transit train system, three new motorways and a coastal port and improvements at Laem Chabang. The new coastal port will encourage companies to ship goods from Thailand's north and central provinces by river instead of road, he said.
Former Finance Minister Kittiratt Na-Ranong, who was a member of the government that the military ousted in 2014, is pleased his successors are now getting going on infrastructure spending. He said in an interview last week that it should have come together faster.
"They've lost one and a half years doing nothing," he said.
Kittiratt, who championed his own major investment program, said that at least his "ideas can be implemented" -- even if the junta stays in power for two decades.
Before it's here, it's on the Bloomberg Terminal.
LEARN MORE