French Energy Titan Makes Kocher Only Woman CEO in CAC40
by
Isabelle Kocher replaces Gerard Mestrallet as CEO of Engie

Investors are waiting to see progress on transformation plan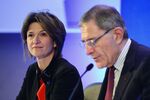 When Engie SA's Gerard Mestrallet hands over the energy giant to his deputy this evening, he's confident Isabelle Kocher, the first French woman to run a CAC40 company, can complete a shift away from fossil fuels.
The plan laid out in February by Chief Executive Officer Mestrallet, 67, and Kocher, 49, involves selling 15 billion euros ($17.3 billion) of assets by 2018, while boosting the contribution of energy services, pipeline operations, and solar and wind power to 85 percent of the business from about 50 percent last year.

"This is a cultural revolution, and we've chosen a young CEO with a rejuvenated team to meet the challenge," Mestrallet said in a phone interview. "We need to make a cultural leap from a very centralized, technical, engineer-driven universe made of large plants, power lines, dams and infrastructure." 
Kocher, who served as the company's finance chief from 2011 to 2014, needs to make Engie more client-focused as it invests in the predictable revenue streams provided by renewable energies, according to Mestrallet, who will remain chairman of the French utility formerly known as GDF Suez. She must also persuade investors the company can make up ground on Spain's Iberdrola SA and Italy's Enel SpA, which have been faster to embrace renewables.
"There's some skepticism; the company has disappointed quite a few investors in the past five or six years by promising increased earnings without delivering much," said Xavier Caroen, an analyst at Bryan Garnier in Paris. "Engie will have to change its culture to adapt to new markets and to become closer to customers."
Engie shares have dropped 14 percent this year, cutting its market value to 34.3 billion euros. That's the worst performance on the 25-member Stoxx Europe 600 Utilities Index, which is down 3.7 percent. Engie fell 1.6 percent to 14.08 euros on Tuesday at 4:45 p.m. in Paris.

Engie is suffering from being slow off the mark. While it wrote down 14.9 billion euros of European thermal-power assets in early 2014 when it identified the challenges facing the conventional power market, the company was forced to write down a further 8.7 billion euros this year as prices continued to decline. 
Now Kocher, who advised former Socialist Prime Minister Lionel Jospin on industrial policy after starting her career at a rocket-engine maker, needs to sell assets as valuations come under pressure and cut 1 billion euros of costs by 2018. She'll be the first woman to head one of France's 40 biggest listed companies since Patricia Russo's three-year tenure at Alcatel-Lucent SA.
"We must deeply and promptly transform ourselves," Kocher said Tuesday at Engie's annual shareholders' meeting in Paris. "We will go from a world of large plants, large networks, which will remain but which will also make room for small-sized infrastructure. Our clients will be not only consumers but also producers."
Solar power accounted for only 1 percent of Engie's 117 gigawatts of generation capacity at the end of last year, even after the acquisition of SolaireDirect made it France's largest solar-farm operator. While wind power comprised 4 percent, that was dwarfed by 56 percent from natural gas, with hydro contributing 17 percent and coal 13 percent.
Irreversible Trend
"We could have gone faster on renewables," said Mestrallet, who transformed the former financial-services group Cie Financiere de Suez into the world's largest independent power producer during his 21-year tenure as CEO. "The shift from centralized power plants and large power-lines toward decentralized production units is a structural, ballistic and irreversible trend" in mature economies, he said.
Engie, whose exposure to commodity prices has seen its market value overtaken by Iberdrola and Enel, has said it plans to cut dividends for the 2017 and 2018 fiscal years.
"Enel and Iberdrola both have a clearly defined capex pipeline for renewables," said Elchin Mammadov, an analyst at Bloomberg Intelligence. "By contrast, Engie has only recently decided to shift its strategy through the transformation plan."
Policy Boost
Spanish and Italian companies have been helped by favorable domestic government policies toward renewables, according to Mestrallet, who said Iberdrola's strategy of "going abroad and betting on renewables" has made it the world leader in clean energies. They have also benefited from higher wholesale power prices because their domestic markets are less interconnected than France and Germany, he said.
Engie is targeting a further 500 million euros of asset sales by the end of this year, after announcing 400 million euros on April 29, following 5.5 billion euros of sales in February. Kocher will work on the disposals with CFO Judith Hartmann, who took over the role a year ago after holding the same position at German media group Bertelsmann SE.
While Mestrallet said cost cuts will take longer to come through, Kocher -- a graduate of France's elite Ecole Normale Superieure -- can guide the company toward its goals.
"The market saw that we switched into first gear with a third of asset sales already under way," he said. "We have to switch to second, third and fourth gear. I'm very confident that Isabelle and the new team will deliver."
Before it's here, it's on the Bloomberg Terminal.
LEARN MORE